Who Is Jared Harris' Wife Allegra Riggio?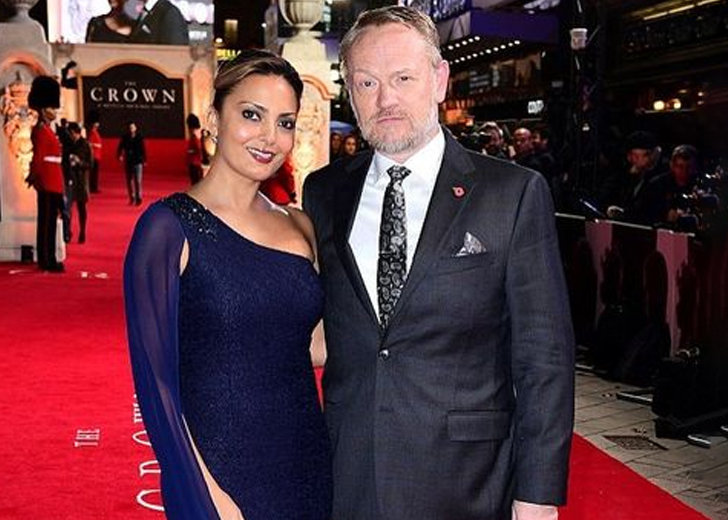 Chernobyl star Jared Harris has been married to his wife, Allegra Riggio, for almost a decade. 
The actor and his wife took to Instagram on November 9, 2021, to mark their 8th marriage anniversary.
Harris uploaded a picture of himself and Riggio sharing a kiss while they wrapped their arms around each other.
"Happy anniversary, my Love. You are my Star. I love you with all my heart. xxox," he wrote in the caption.

Jared Harris and wife Allegra Riggio celebrating their 8th wedding anniversary (Source: Instagram)
Who Is Jared Harris' Wife?
Riggio is an on-air personality for both TV and radio. Born to a Trinidadian mother and an American father of Italian and Polish heritage, she initially found fame as a model.
Still in her teens at the time, she began appearing on the covers of local magazines, as well as being featured in fashion shows.
Riggio was later featured as one of Ocean Drive's "Hottest Locals," and a modeling cameo in Cocaine Cowboys proclaimed her the face of the renaissance of South Beach.
Aside from her modeling career, Riggio also found success as a nightclub lighting director. As a lighting director, she has worked with some of the biggest DJs, including Paul van Dyk and David Guetta.
Riggio is also an actress who worked on projects such as Multiple (2008), Crossroads (2014), and Into the Equinox (2016).
Of the three projects, Riggio also produced Into the Equinox. Additionally, she has also written, hosted, and filmed multiple webisode series, as well as made appearances on several documentaries.
As an on-air personality, Riggio has reported for outlets like Sirius XM Radio (Area Channel), Dance TV (Portugal), and The Rock & Roll Report.
How Jared Harris Met His Wife
Harris met his wife for the first time back in 2009 at a comedy club where a mutual friend of theirs was performing.
At the time, he was still married to his previous ex-spouse, Emilia Fox. However, he and Fox separated in June 2010 and he proposed to Riggio with a heart-shaped diamond ring in June 2013.

Jared Harris and wife Allegra Riggio during their wedding (Source: Twitter)
In November of the same year, the pair took their relationship to the next level and tied the knot.
She shared the good news via her Twitter, writing, "Just married. <3," and uploaded a picture from their big day.
In the picture, Riggio, who was wearing angel wings with her dress, could be seen holding a bouquet of calla lilies while standing beside her husband.
Jared Harris' Relationship History
Before getting together with his wife, Harris was romantically linked with several well-known names.
He dated Raquel Welch's daughter Tahnee Welch for five years. Harris' first marriage was with Jacqueline Goldenberg, with whom he had tied the knot in 1989.
However, their marriage only lasted for three years and they went their separate ways in 1992.
The Sherlock Holmes: A Game of Shadows star later dated actress Emilia Fox, whom he wed on July 16, 2005.
Harris and Fox ended their marriage after five years together in June 2010.