Jared Goff's Girlfriend Christen Harper Always Reinforces His Career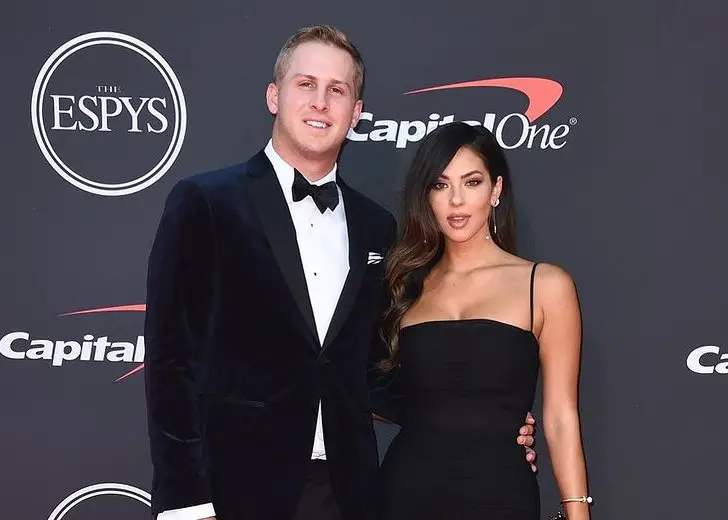 Jared Goff's girlfriend Christen Harper has been a source of constant support for him.
She has been spotted cheering for her quarter-back boyfriend and his team, the Detroit Lions, on numerous occasions and matchdays.
However, she was on the list of absentees when the Lions beat the Minnesota Vikings 29-27 in December 2021, capping their first win since December 6, 2020.
Goff's girlfriend, who rarely misses watching him in action on the football field, was busy with a photoshoot for Sports Illustrated Swimsuit while the match was ongoing.
But after the Lion's triumphed via a walk-off touchdown, the news was broken to Harper amid her shoot.
In addition, she was shown a video of Goff's decisive pass to teammate Amon-Ra St. Brown which ultimately sealed the victory.
"Shut up! Shut Up. This is our first win! This is crazy," an excited Harper shared after learning that the Lions emerged victorious in the NFC North.
Harper's reactionary video, which Sports Illustrated originally shared on Twitter, went viral soon after its upload.
The content has been retweeted around four thousand times and has amassed nearly twenty-two thousand likes as of this writing.
Likewise, the same content has received nearly seventy-four thousand likes on Sports Illustrated's official Instagram account.
Getting to Know Jared Goff's Girlfriend, Christen Harper
On May 28, 1993, Harper was born in Los Angeles, California, to her father, Michael Harper, and mother, Daria Harper.
Harper holds a bachelor's degree from the State University of Northridge, California.

Jared Goff celebrates his twenty-sixth birthday with his girlfriend Christen Harper. (Photo Credit: Instagram)
With aspirations to become a professional model, she started her career early before getting her big break in 2021. 
She was selected to model for the swimsuit edition of the coveted Sports Illustrated during the said year.
During her chat with Sports Illustrated Swimsuit in April 2021, the model said she wouldn't have seen such great heights in her career if she wasn't inspired by the first Swimsuit issue she came across as a thirteen-year-old.
Apart from a career in modeling, Harper has also made her talent known in television series and movies.
She is notable for her work in one of the episodes of 2006's show Entourage and later for having a starring role in the sci-fi drama Auggie, released in 2019.
Additionally, she has also appeared in HBO's sports docu-series Hard Knocks alongside Goff.
The model also takes a timeout from her busy career to showcase her work life and private life to her 400,000 strong Instagram followers.
Jared Goff and Girlfriend Christen Harper's Relationship
Reportedly, the couple's initial meeting dates back to 2019, a month before Goff played for the Los Angeles Rams in Super Bowl 53 against New England Patriots.
The model made her relationship with the-then Rams star Instagram-official ahead of the Super Bowl match at the Mercedes-Benz Stadium in Atlanta in February 2019.
Harper is open about her relationship with Goff and often posts pictures with her boyfriend on her social media accounts.
But, as of this writing, the couple isn't known to be married or share any children.