Meteorologist Janice Dean Has Been Embracing Her Body While Having Multiple Sclerosis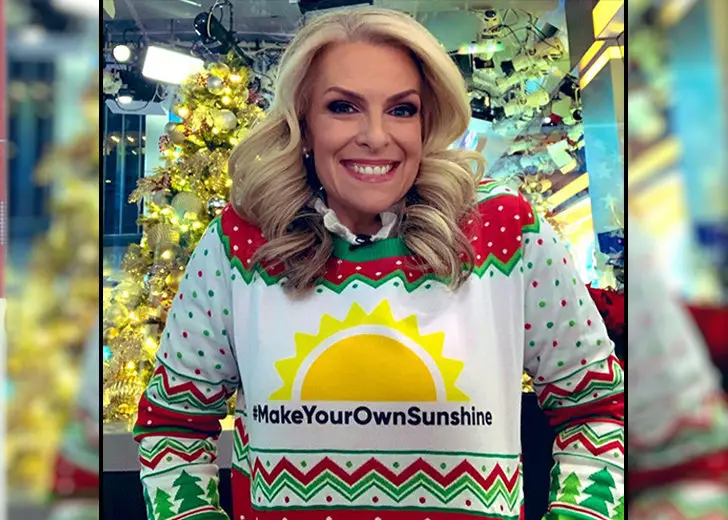 Much like the weather, a person's emotional state is always in a state of flux.
Janice Dean must have experienced this flux in an intensity that not many others had when she was posed with the diagnosis of multiple sclerosis.
However, the threat of a choric disease that could someday put her in a wheelchair was not something that could put the famed meteorologist down.
Admittedly, her unwavering strength spawned from various sources, including her colleagues, husband, medical professionals, and others who have dealt with the same illness as hers. 
Regardless, Dean has grown despite her illness and celebrates every day of her life in gratitude for what her body can do instead of lamenting about what it might not be able to do someday. 

Janice Dean out making snow angels (Source: Instagram)
Janice Dean Finding out about Multiple Sclerosis
In her book Mostly Sunny (via People), Dean recalled having her first multiple sclerosis episode in 2005, which just so happened to be the most active hurricane season in history. 
Understandably, she was working extra hours back then because of the nature of her work. 
But she was tired beyond reason at a point. She could tell it wasn't the extra hours she was putting in at work. 
"I felt like I could sleep for days," she shared, "At points, I couldn't even get out of bed, and I didn't know what was wrong with me."
Dean decided that taking some time off work would be the best way to go about the situation, and so she did. 
In an article she wrote for Women's Health Magazine, she recalled how on the first day of her vacation, she woke up with numbness in her feet and parts of her legs. Something was wrong. 
She shared in her book that she was lucky to have gone to a doctor early on and not ignored the first few signs. As a result, she got diagnosed early and could better manage her symptoms. 
Janice Dean Thought Her Life Was over
Still, when she was first informed about her having multiple sclerosis, she thought her life was over. 
"My career would be finished. The man that I was dating would probably leave me. How would I support myself?" she thought to herself.
Multiple sclerosis can be scary; it is "an unpredictable, chronic, incurable, and possibly disabling disease of the central nervous system that interrupts the flow of information within the brain and between the brain and the body." 
Janice Dean Had Some Help Along the Way
Fortunately, Dean found herself a doctor and a nurse who were especially kind to her. She referred to the nurse, Jennifer, as an angel in a white coat. 
She also found people who were living with multiple sclerosis, like she was. She very optimistically wrote that these weren't people who were just surviving. They were thriving.
She has lived with the diagnosis for over a decade and a half as of this writing, and she has actively tried not to stress about the things that had bothered her throughout her life. 
Although she had been criticized for her weight and body from a very young age, she was now able to be grateful for the body that she had — the body that had supported her for so very long.
Oh, and before we conclude this article, she ended up marrying the man she thought would leave her when she was first diagnosed.