James Cameron Met His Fifth Spouse Suzy Amis While Filming 'Titanic'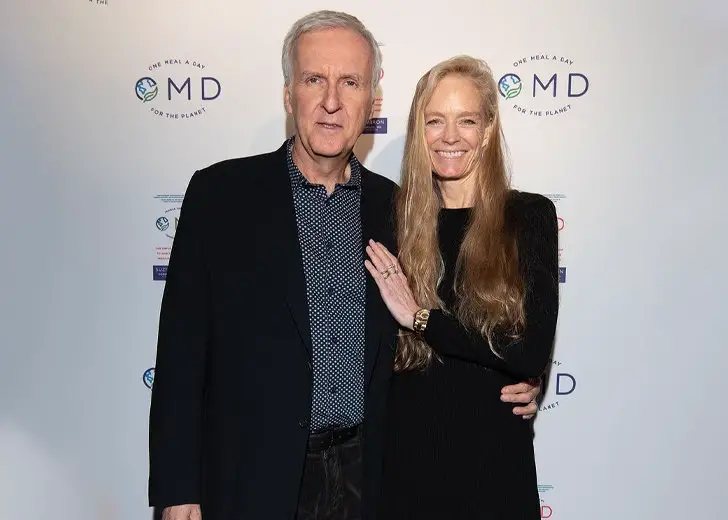 The fifth time is the charm for Oscar-winning director James Cameron. 
He has worked on many acclaimed movies like Aliens, The Abyss, and Avatar. But, arguably, the best and most famous film he ever made is Titanic. 
He received not only many accolades and acclaim for the movie but also the love of his life and spouse. He has been married five times to date and is currently with his fifth wife, Suzy Amis.
Before getting married, there was speculation about an affair and Cameron cheating on his then-wife. Here is everything we know about Cameron's love life, including his relationships with ex-partners and current spouse. 
James Cameron and His Spouse Suzy Amis
Cameron did not have a good relationship with his fourth wife, Linda Hamilton. Their short-lived romance was filled with paranoia and distrust. 
One of the main reasons was that Cameron was speculated to have an affair with Amis. It is reported that Amis worked as a model before becoming an actress in the '80s.

James Cameron and his fifth spouse, Suzy Amis, posing for a photo. (Source: Instagram)
Her debut movie was Fandango, and she later landed roles in The Usual Suspects and The Ballad of Little Jo. But Titanic changed her life for the better because she met her spouse on the set of the Oscar-winning film. 
She played the role of Lizzy Calvert, the granddaughter of protagonist Rose Dawson Calvert. Both Cameron and Amis were attracted to each other while filming the movie but did not date.
According to The Guardian, it was because of Cameron's strict rules that he follows. He has an unbreakable code of not dating anyone when they work together, no matter the type of work.  
Shortly after Titanic, Cameron divorced his fourth spouse and married Amis. Before the director, Amis was married to Sam Robards for almost eight years, from 1986 to 1994, and has a son named Jasper.
The two got married on June 4, 2000, and currently share three kids, Claire, Quinn, and Elizabeth. In 2019, they filed a petition to be one of their daughter's friend's permanent guardians. 
The friend's parents were not financially stable, and they also had some health problems. As a result, Cameron and Amis stepped in to take care of her. 
They were granted the rights in 2020, and now, they have the power to travel with her internationally. They can also raise her outside the USA as well. 
As of 2022, Cameron and Amis have been together for two decades, making it Cameron's longest marriage. 
James Cameron and His Ex-Wives 
Cameron's first spouse was Sharon Williams. They were married from 1978 to 1984 and had no children together. 
Then, a year later, in 1985, he got tied the knot with producer Gale Anne Hurd. The two collaborated on a lot of projects in the 1980s. 
Unfortunately, their marriage did not work out, and they ended up in a divorce. The two separated in 1989. 

James Cameron posing for a picture. (Source: Instagram)
Soon after his separation from Hurd, the director met Kathryn Bigelow. The pair tied the knot in 1989 but divorced two years later in 1991. 
He then started dating the actress of The Terminator, Linda Hamilton. His marriage with Hamilton was the messiest out of all the ones he had. 
This was the first time Cameron had dated for a couple of years before getting married. His daughter with Hamilton was born in 1993, and five years later, the two tied the knot. 
But the marriage did not work out for the two. Moreover, the rumors of Cameron having an affair with Amis did not help. 
As a result, they got a divorce in 1997. Soon after, he married Amis and is still with her.