The Hard Life of Jada Pinkett Smith's Mom Adrienne Banfield-Norris
Jada Pinkett Smith's mom was pregnant with Jade when she was 18.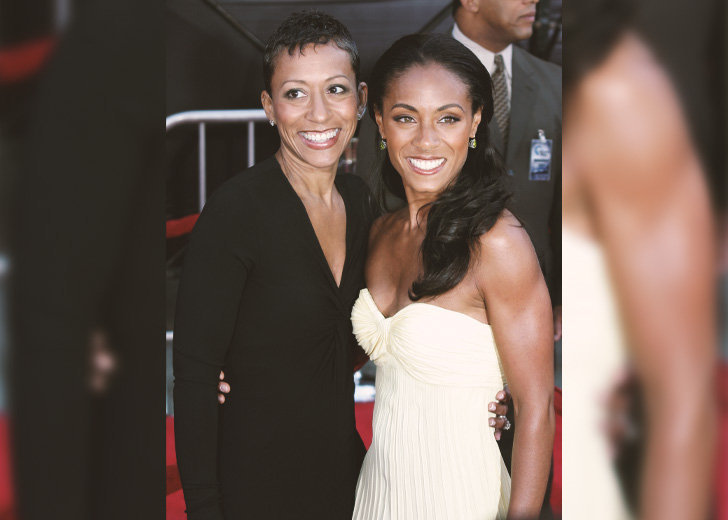 Hosted by Jada Pinkett Smith, her mom Adrienne Banfield-Norris, and her daughter, Willow Smith, the Facebook Watch talk show Red Table Talk started in May 2018.
With four seasons so far, the show focused on a wide range of topics, where those three women from three different generations sat down and gave out their opinions and experiences on varied issues.
While doing that, Smith's mom, Banfield-Norris, revealed some hard truths about her life that showed she overcame struggles like addiction and violent marriage.
The Story of Adrienne Banfield-Norris' Addiction
In an episode of the show released in July 2018, Banfield-Norris got honest about her addiction story and how she had managed to remain sober for 27 years by that time.
She first admitted that she struggled with drug use for over 20 years, saying, "I couldn't hide the unmanageability of my life, and the emotional damage and the spiritual damage I did to myself and to her. That was devastating. I abused drugs for over 20 years."
Smith also added to the story by saying she realized her mother struggled with heroin addiction when she was a teen. She further shared that she could tell when her mom was high.
She couldn't make it on time to pick me up from school. Or she's nodding off, falling asleep in the middle of something. You just realize, oh, that's not being tired, that is like, a drug problem.
Later in the episode, Banfield-Norris revealed that she finally decided to get clean when she realized she could be with a man she was interested in.
Jada Pinkett-Smith's Mom's Violent Marriage
In another episode of Red Table Talk in October 2020, the mom-daughter duo talked about Banfield-Norris' violent marriage with Smith's father, Robsol Pinkett Jr.
When the famed actress asked her mom if she had "a sexual experience that was not necessarily consensual," Banfield-Norris responded to that saying, "I have, I have, but it was also with my husband. Your dad, actually."
Smith, who couldn't believe the answer at first, was later convinced by her mom, who further revealed she and her then-husband had regular fights, and she even had a couple of scars on her body due to domestic violence.
Banfield-Norris and Pinkett found out they were expecting Jada when they were in high school. They eventually got married only to divorce after several months. Pinkett reportedly died in 2010.
Medical Professionals Ill-Treated Adrienne Banfield-Norris
Among other many struggle stories Banfield-Norris shared about her life, one of the most emotional and troubling stories was when she was mistreated by medical professionals when she was pregnant with Smith.
She revealed during the show that she was badly treated just because she was a black woman. She shared,
Imagine a young Black girl, and they treated me really bad just like sit over there, we'll get to you in a minute. My water leaked for a month. It was just so much trauma that after that, I was like, never again.
Despite all those hardships, Banfield-Norris, 67, now relishes a joyful life and works in the entertainment industry as a television personality. She is also active on Instagram, where she inspires her 396,000 followers with fitness and relationship tips.