Boyfriend Jordan Farnum Surprises Jaclyn Hill with a Romantic Proposal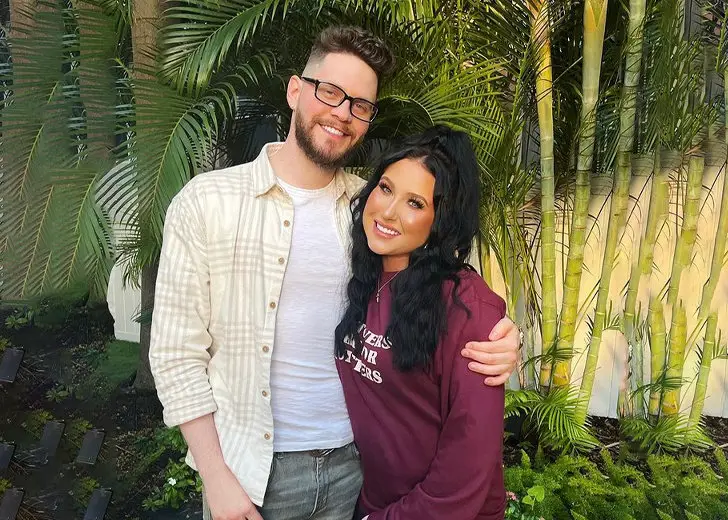 Jaclyn Hill was proposed by her boyfriend Jordan Farnum during the couple's outing on December 24, 2021.
Hill made the news public by posting a photograph on her Instagram, where she was seen flaunting her engagement ring.
"A million times yes," she captioned the image, hinting to her fans that she wasn't caught in two minds while taking her decision.
The comment section was flooded with congratulatory messages from her fans and well-wishers.
Jaclyn Hill's Boyfriend Pre-Planned the Proposal
Farnum's proposal was pre-planned and documented on camera with the help of his video production team.
In the clip released on January 10, 2022, Hill's fiancee could be seen speaking about his plans to propose the love of his life.

Jaclyn Hill, pictured with her boyfriend Jordan Farnum flashing her engagement ring. (Photo Credit: Instagram)
As depicted in the video, Farnum told Hill four days prior that he had planned a surprise for her. Not knowing what it was, Hill joined her boyfriend to a local park where he eventually proposed to her.
Upon reaching the location, Hill noticed Farnum had pre-arranged an array of five pictures covered in white clothing.
One by one, the covers were taken off, revealing intimate photographs of herself and Farnum.
And soon after the fifth covering was removed, Farnum went down on his knees, proposing Hill, who found herself soaked in tears in no time.
"I love you with all my heart, baby. So, I humbly, staying on one knee, ask you, Will you marry me?" Farnum said in his romantic proposal.
Hill, overwhelmed with emotions, embraced Farnum, wondering if she was dreaming. "A million times, yes. Every lifetime, yes," she said. 
Later, it was revealed that the park where Farnum took Hill was where they went on their first date.
After that, Hill broke the news to her friends and family over multiple video calls and later celebrated her special day with her family members with a special meal.
Like Farnum, Hill uploaded a twelve-second clip on her official Instagram account, showcasing the moment she accepted her boyfriend's proposal.
In her caption, the entrepreneur revealed she was initially in complete shock but later realized she was the "luckiest girl in the entire world."
Jaclyn Hill's Relationship with Her Boyfriend
Long before her emotional coming-together with Farnum, Hill was accused of cheating on her ex-husband Jon Hill.
Hill initially met Fernum after her former husband, Jon, hired him as a video editor. Reportedly, the closeness between them grew, which later sparked dating rumors.
In September 2020, she uploaded a video on her YouTube channel addressing a fan question related to the cheating rumors.
She called the claim "very sensitive" and at the same time classified it as being not so important. Hill stated she did not cheat her previous husband, and there was no need to prove it.
The businesswoman stated she was separated from Jon six months before their legal divorce.
Additionally, Hill worked her way with words while addressing whether she was close friends with Farnum before hiring him for editing videos.
She said her ex-husband knew him professionally, which led to his appointment. Hill further clarified that she got in touch with Farnum over DMs only after her divorce with Jon was finalized.