Meet Jack Quaid's Girlfriend Lizzy McGroder
The Hunger Games actor is dating a comedic actress Lizzy McGroder.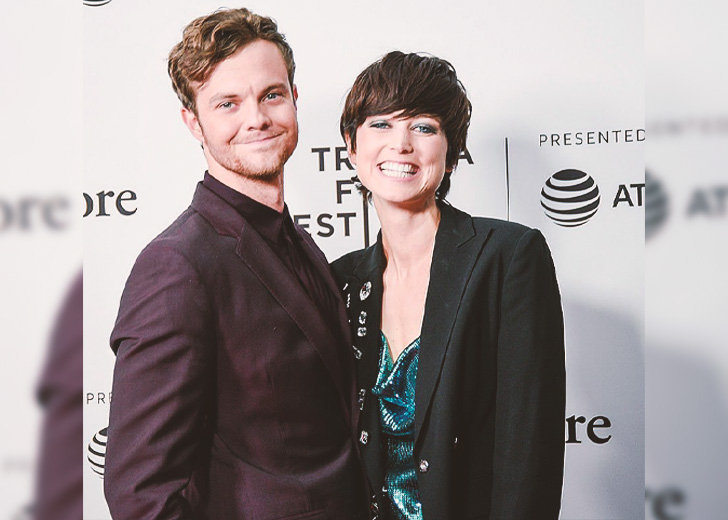 Jack Quaid is known for his excellent features in multiple superhero series.
The American actor got his first big break when he made his acting debut in the dystopian film The Hunger Games in 2012 and went on to give an iconic performance as vigilante Hughie Campbell in the Amazon Prime Video superhero series The Boys in 2019.
He has worked with directors like Martin Scorsese and Steven Soderbergh, and appeared alongside Hollywood big names such as Tom Hanks, Daniel Craig, Channing Tatum, Jennifer Lawrence, and Katie Holmes, to name a few.
Quaid has also made headlines for his relationship with rising model and comedian Lizzy McGroder. The couple has been together since 2016 and they are often seen declaring their love for each other on social media during their anniversary.
Many fans have since wondered who Is Lizzy McGroder? Here are some things to know about Jack Quaid's sweetheart and long-term girlfriend. 
Who is Lizzy McGroder?
Lizzy McGroder is an actor and director who is known for TV mini-series like Middle School Talent Show (2018), #ToothFairies (2017), and Destiny's False Turn (2015). 
She might not be as famous in Hollywood as her boyfriend, but with a degree in filmmaking, she is also a rising YouTuber, model, and comedic actress. 
Lizzy McGroder's Path Towards Comedy and Acting
McGroder spent her childhood in Phoenix, Arizona, and attended Occidental College from where she graduated with a BA in media arts with her core subject being screenwriting. 
Right after graduating, she was signed by a modeling agency and she was started working full time as a model. In her recent interview with VoyageLA, she revealed that even though she tried being consistent with her work at first, it never satisfied her. 
"Sure, it was fun at times, but felt empty for me. I never felt like the people in the modeling world were my people."
Although she had no intention of pursuing comedy or acting at the time, she just wanted an outlet to be goofy and show her creativity. She moved to California to audition for the Groundlings, which is an improv and sketch comedy troupe and school based in Los Angeles. 
"Groundlings offered me a community. The people I met at the school are some of my best friends today," she said.
McGroder revealed that Groundlings was also the place where she got the inspiration for creating a live sketch show: Middle School Talent Show. The show was extremely well received by the critics as well as the audience and after 3 years of the initial release as a live sketch show; the creators were able to turn it into a TV miniseries. 
The sketches were disguised as "acts in the talent show", and actors played 2003 middle schoolers, teachers, and parents. The creator of the series owed the reason for the show's success to the relatability of every character on screen.
"I am one of the most nostalgic humans, so I wanted to capture that 2000s era, as well as the painful, awkward, magical years of middle school," said McGroder. "I have worked with kids all my life and there is something so unique about that age."
How Did Jack Quaid Meet Lizzy McGroder?
Quaid met McGroder first time in a bar, in quite an unusual way. 
McGroder was the Groundlings improv actor at the time and started yelling across the bar at Quaid to see how he'd react. 
"All of a sudden, from across the bar, I just hear, 'Hey! You! Get over here. You're late. Mom's going to cancel the trip to Mexico,'" Quaid recollected.
He was surprised at first, but as an improv trainee himself, he played along and followed exactly what he was taught: to always agree with what your scene partner says. 
"I was like, 'Yeah, sorry I'm late.'" 
The couple shared a burst of laughter after his reply and spent the rest of their night sharing about their lives. The duo has been together since then and they surely are everybody's #couplegoals.