Here's Why Everyone on the Internet Is Asking — 'Is Seth Meyers Jewish?'
Seth Meyers is mistaken to be Jewish by people all over the world when he's not.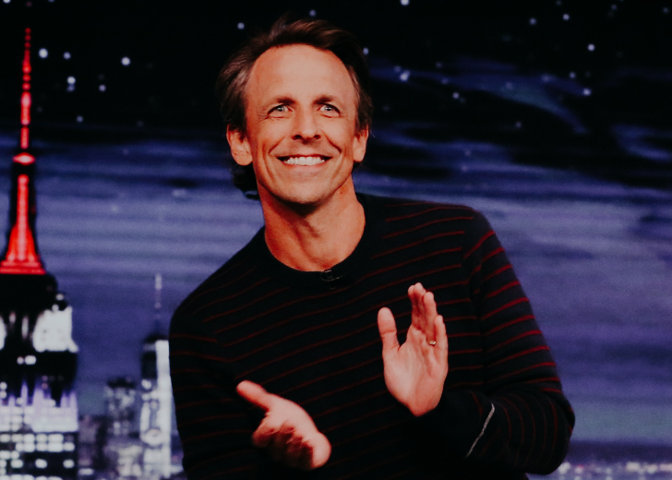 Seth Meyers is one of the world's most recognized comedians who has been gracing the TV screens for over a decade. And for as long as he has been in the spotlight, one misunderstanding has always followed him — Seth Meyers is Jewish.
And despite the Late Night with Seth Meyers host addressing the topic multiple times, the question "Is Seth Meyers Jewish?" keeps floating on the internet. Here's a look at how the misunderstanding originated.
Is Seth Meyers Jewish?
Meyers isn't Jewish, and he has explained his circumstances frequently. In fact, the comedian has even used the misunderstanding as source material for many of his comic performances.
The comedian had a Jewish grandfather and because of his name and face, it's not surprising that people mistake him for one. But neither Meyers nor his parents are Jewish.
The only one who is Jewish in his immediate family is his wife. Back in 2014, Meyers spoke about it on his Late Night Show on NBC.
I'm not Jewish. Not everybody thinks I'm Jewish, but every single Jewish person thinks that I'm Jewish. And it's not their fault because they think that… because of my face and name and everything about me… And I'm very pro-Jewish, and I can prove it because I married a Jewish woman!
Meyers also used the story of his in-laws mistaking him as Jewish for a segment of his standup on Netflix is a Joke.
Seth Meyers And His Wife
Meyers is married to human rights attorney Alexi Ashe Meyers. The two met at Chris Kattan's wedding with Sunshine Tutt in June 2008.
When talking to Your Tango, the former Saturday Night Live writer/cast member revealed it was love at first sight for him.
Yes it was [love at first sight]. I had a sense that she was the closest I'd ever met to someone who I could see myself with. Pretty much right away.
The two started dating shortly after and Meyers proposed to her by tying a ring to their dog's collar. When recounting his engagement story to Jimmy Fallon, the comedian shared he was scared the dog would eat the ring.
Thankfully, the proposal went with no big hiccups and Meyers married Ashe on September 1, 2013. The wedding was held at Martha's Vineyard, Massachusetts.
Children
Meyers and Ashe welcomed their first child together, son Ashe Olsen Meyers on March 27, 2016, at Lenox Hill Hospital.
Two years later, the pair gave birth to their second son, Axel Strahl Meyers.
Meyers shared the dramatic fashion in which his second son arrived.
Ashe went into labor in the lobby of their apartment while an Uber waited outside. Looking at her situation, the midwife suggested she stay put.
The comedian joked his son couldn't wait to come into the world and was out by the time he was done calling 911.
Meyers also explained that Axel's middle name, Strahl, honors Alexi's holocaust survivor grandparents.
They met at a hospital in Austria the day after they were freed from a concentration camp.