Ian Mcshane Got Third Time Lucky with His Current Wife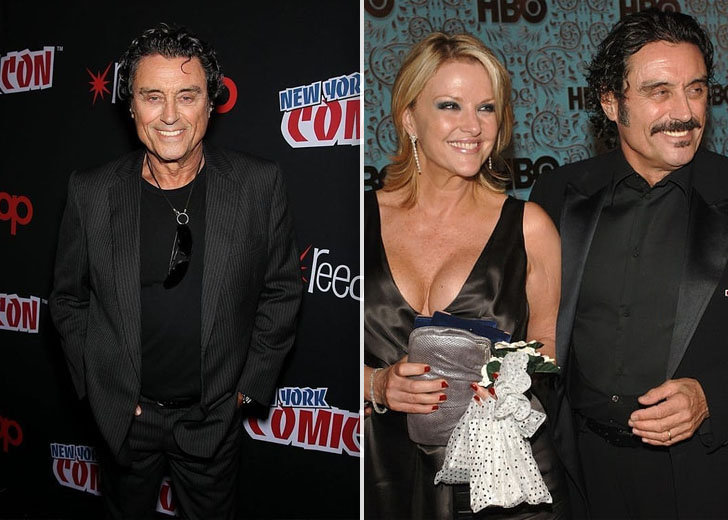 English actor Ian McShane cannot remember his first two marriages. He claimed this during his 2006 conversation with The Telegraph.
His two early marriages fell apart as a result of his alcoholic behavior.
In the recollection of his domestic affairs, the actor said,
I can't remember the first two marriages. I've been married 27 years to the same woman and it's third time lucky.
According to McShane, he adopted the habit of drinking while working with Richard Burton in the 1971 gangster film Villain.
The actor and Burton would start drinking vodka with kippers and grapefruit every morning before heading to the pub for several lunchtime pints.
McShane had stated that his days of drinking and womanizing started when he was eighteen, a habit which he continued until he was forty-five.
"You give it up. I mean, God, it's been 18 years since I've done any of that stuff. We live in a different era now," the English actor spoke in his recollections.
Ian McShane's Relationship Timeline with His First, Second, and Third Wife
The actor was first married in 1965 to Suzanne Farmer, but the relationship did not last longer than two years.
McShane was then married to model Ruth Post and had two children with her.
However, his marriage with Ruth ended after the actor left his wife for adult movie star Sylvia Kristel.
In a report by Express, McShane is quoted calling his ex-wife Farmer "delightful," and the queen of the "Hammer Horror movies."
The actor mentioned not seeing his first wife for two years in the same report.
McShane met his second wife in Manchester and kept a long-distance relationship with her for a couple of years before getting married.
In McShane's words, his second marriage with former wife Post was a "disaster."
But 1981 turned out to be a memorable year for the actor as he met his current wife and American actress Gwen Humble.
They met each other while onboard The Queen Mary, a now-retired British ocean liner filming a romantic comedy.
Ian McShane Stopped Drinking after Marrying His Third Wife
Actor McShane married his wife Humble in the liner's chapel, where they first met.
His meeting with Humble turned out to be life-changing for McShane as it was after marrying his third wife the actor opted to stop drinking.
During his 2019 sitting with Sam Jones from Off Camera with Sam Jones, the legendary English actor gave the account of the moment he decided to sideline his drinking habits.
His moment of epiphany arrived around two weeks after Christmas when he was opening all the bottles he had in his house while Humble was not at home.
He recalled watching Orson Welles starrer The Third Man when the revelation hit him.
"It's kind of something happened to me that was quite extraordinary," McShane told the host.
He further added that he has remained "always thankful for it," and remarked that his decision was driven by "higher power or something that takes over your life."
Reportedly, McShane joined Alcoholics Anonymous, an international fellowship dedicated to helping alcoholics achieve sobriety with their Twelve Steps program.