Why Gilbert Gottfried Keeps Life with Wife Dara on the Down-Low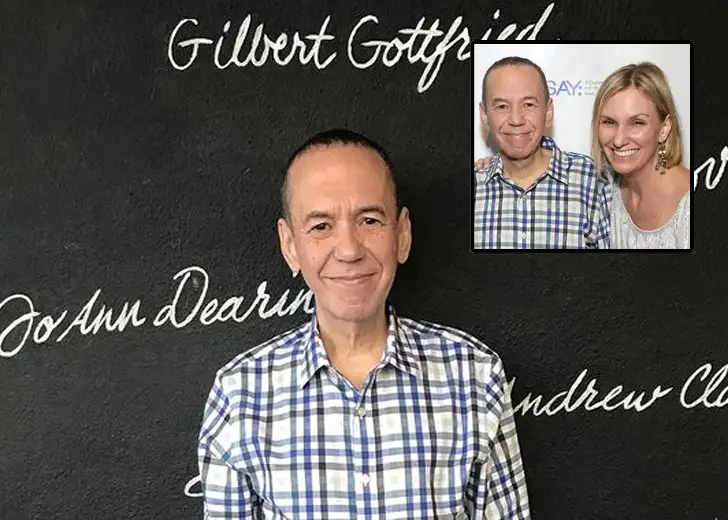 Gilbert Gottfried and his wife, Dara Gottfried (nee: Kravitz), have been married for over a decade now.
The pair met at a Grammy Awards party at Tavern on the Green in the late 1990s. And their chemistry sparked at their first encounter.
Dara, a music industry executive, had mistakenly dropped food on a table, and Gottfried had picked it up, putting it on his plate.
Dara thought the comedian was adorable, although he admittedly looked sad, "lost and childlike." Interestingly, the feeling was entirely mutual.
Gottfried went against his usual eccentricity and gathered the courage to ask for her phone number.
After that, their relationship ensued, and the pair started dating; however, only their close confidants knew of their budding romance.
Gilbert Gottfried and Wife Married in 2007
Gottfried and his partner tied the knot on February 3, 2007, and welcomed two children. 
The married duo welcomed their first child, daughter Lily Aster, on June 12. Their second child, son Max Aaron, joined the family on May 19, 2009, two years after their wedding.

Gilbert Gottfried with his wife and children at the American Museum of Natural History in March 2019. (Photo: Dara Gottfried/Instagram)
It's safe to say that the couple has been through ebbs and flows in their marriage, maneuvering through challenges of parenthood and their career.
In 2011, Gottfried faced a slump in his career after being fired from the Insurance company Aflac, where he voiced the iconic duck for commercials. 
His humorous take on the earthquake and tsunami in Japan had cost him his job. That wasn't all. He became the subject of controversy, facing harsh criticisms.
His spouse stayed by his side during the trying times, supporting him.
"I just wanted to yell out to everybody, 'My husband's a good man,'" Dara recounted the incident to The New York Times in March 2013.
Admitting it was a difficult phase, she mentioned how her husband meant no harm.
The mother-of-two also became candid about their parenthood. She praised Gottfred for being a father who preferred spending time with his children than with other adults. 
Gottfried also gushed about his children and opened up about the fear of becoming a father. He disclosed he had overcome his doubts and was bonding with his son over classic movie monsters.
He added that he only beat his children once, and that was when he was on crystal meth. "I'm proud of that," he jokingly added, making his wife laugh.
Gilbert Gottfried Prefers Privacy
Gottfried is famous for his penchant for privacy regarding personal life. So much so, the detail of his wedding is still not public knowledge for his fans and followers.

Gilbert Gottfried with his wife, Dara Gottfried, in Lenox, Massachusetts in 2018. (Photo: Dara Gottfried/Instagram)
In the aforementioned interview with The New York Post, Gottfried shared why he liked to keep his personal life on the down-low.
Obviously, he did so in his usual abrasive sarcasm, mentioning how the public would want to know about his bank account numbers, social security, and PIN code.
Then the famed humorist stated, "I can't peek my head into a women's changing room and go, 'Well, I want to know, and I'm curious about this.'"
In the same interview, his friend and fellow comedian Richard Belzer theorized Gottfried did so to protect his character.
He opined that the world's perception of the comedian might dilute if people knew he had a girlfriend or a wife.