'I am proud of and humbled by her' — Garret Dillahunt Gushes about Wife Michelle Hurd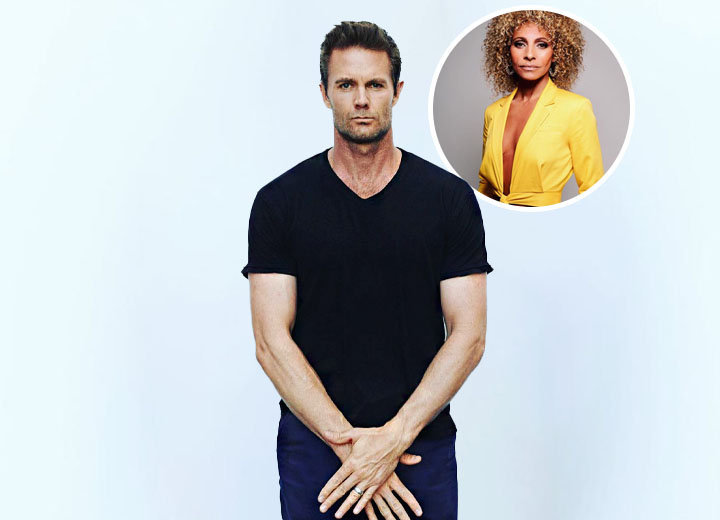 Like most private actors in Hollywood, Garret Dillahunt keeps it professional and refrains from sharing too much about his personal life.
As a result, only a few people know he has been married to Michelle Hurd, a biracial actress known for her roles in Star Trek: Picard, Blindspot, and The Glades, among others. 
The pair met thanks to their shared interest in acting; they met on the set of 900 Oneonta play in 1996. 
The couple recounted their first meeting during their joint appearance on Friday Night with the Morgans in 2020. And according to Dillahunt, he was love-struck the first time he met his future wife. He was so besotted with her that he could not get a word out. 

Dillahunt's wife posing for WATCH magazine's spread. (Source: Garret Dillahunt/Instagram)
Hurd, however, remembered the experience differently. She was excited to meet her new co-star and excitedly introduced herself. Unfortunately, she was not met with the same enthusiasm, leading to a bad first impression. 
It worsened when Dillahunt started laughing and chatting with their other co-star, Missi Pyle. 
Garret Dillahunt Humbled by His Wife 
The duo overcame the awkward first meeting, fell in love, and eventually tied the knot in 2007. The couple is blissfully married to this day, and it is widely believed that they do not have children. 
On the rare occasion he shares about Hurd on social media, he always promotes her work and shares her achievements.
In July 2019, he shared a poster of his Hurd's new show, Star Trek: Picard, and said he was excited about the show. Later, he shared the trailer of the show.
He also excitedly tweeted about his partner's SAG-AFTRA President's Award For Union Service, writing, "in case you didn't already know it, my wife is amazing."
In another tweet, he expressed that his beloved partner humbled him. "My wife is the strongest, most honest person I know. The way she has conducted her life is unassailable. I am proud of and humbled by her." 
Garret Dillahunt's Wife and Bill Cosby
Dillahunt's tweet came after Hurd had shared her experience of inappropriate touching at the hands of Bill Cosby while she was a stand-in on The Cosby Show.
She noted it started innocently with Cosby inviting him to lunch in his dressing room daily and gradually progressed to a point where he would touch her all over. Hurd was instructed not to tell anyone what they did together. 
The allegation was published privately via a Facebook post by Hurd and was not meant for the public. 
After the story went live, popular media outlet, The Wrap asked for permission to publish it, but Hurd reportedly denied them. 
However, The Wrap ran the story anyway, and Dillahunt was agitated. The actor called out the outlet for their actions and iterated that it was not their story to publish.
Undoubtedly, he is fully supportive of his spouse, and she is also equally understanding on that front. "We understand what our worlds are like, and then we're also able to work with each other," Hurt told Watch when asked about the benefits of getting married to an actor. 
She explained she loved running lines with her husband and shared he inspired her to make bold choices. "We have no competition between us—just support, encouragement, and love," she added.