Farrah Abraham Gets Candid about Her Plastic Surgery — See before and after Pic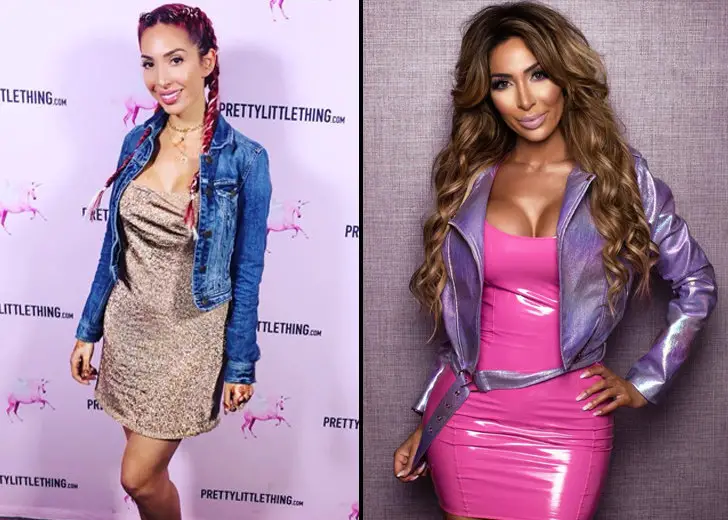 Farrah Abraham does not shy away from all the plastic surgeries she has done to date. 
Plastic surgery and procedures are very common in the Hollywood industry. Many hesitate to open up about their fillers and implants, but the reality TV star is not one of them. 
Since Teen Mom, she has gotten various procedures done on her. Some have been successful, and some have not been. 
Here is a look at all plastic surgery Abraham has gotten to date. 
Farrah Abraham's Plastic Surgery 
Abraham got popular after appearing in 16 and Pregnant and Teen Mom. Since then, she has had major transformations. 
Looking at before and after pictures of the reality TV star, it is obvious that she has had plastic surgery.
She has also appeared in reality shows like Botched and The Doctors to talk about her procedures. 

Farrah Abraham in an interview with RumorFix. (Source: Wikimedia Commons)
Plastic surgeon Dr. Anthony Youn shared his opinion about Abraham's transformation to The Sun. Moreover, he also shared approximately how much the Teen Mom alum spent on different procedures. 
Dr. Youn estimated that her face cost approximately $133K. This included rhinoplasty or nose job, lip fillers, Botox, cheek fillers, brow lifts, veneers, fat removal, and eye surgeries. 
Abraham often posts about undergoing different procedures on her social media. From there, she has revealed getting lip fillers, threads, chin implants, and other removals. 
She got her first breast implant in 2010 after giving birth to her daughter, Sophia. She had plastic surgery while she was in mid-season with Teen Mom.   
During that time, she confessed to feeling like she was losing breast mass after giving birth. She wanted to feel like a woman again, so she got her breast augmentation surgery where she went to a C cup from A cup. 
She underwent another augmentation where she went to a D cup from a C. Unfortunately, and the second surgery was botched.

Farrah Abraham posing with her daughter, Sophia. (Source: Instagram)
She confessed that her breasts were burning and hurting. As a result, she had to undergo a third surgery to fix the second one in 2015.  
Fortunately, she had the help of the best reconstruction surgeries to fix her breasts. Dr. Youn guessed that all these procedures for breast approximately cost Abraham $30K. 
The reality TV star also has done some surgeries on her body.
She has gotten vaginal rejuvenation and labiaplasty on several occasions. It is suspected that she got these for her adult film career. 
Dr. Youn estimated that Abraham paid around $10K for these two procedures. Moreover, she has also gotten plastic surgery on her bottom. 
She got butt injections, Brazillian butt lifts (BBL), and implants for a curvy figure. Once, a doctor denied a BBL because Abraham did not have enough fat for the surgery. 
However, the Teen Mom alum went to another place and got implants and injections. She regularly gets these done and also takes Sophia with her. 
Dr. Youn said Abraham must have invested almost $22K for the procedures. 
Farrah Abraham's Plastic Surgery Regrets 
While Abraham is loud and proud of her plastic surgeries, she sometimes regrets them. In her new book, Dream Twenties: Self Guided Self Help Memoir, she confessed regretting chin implants. 
She said she was very insecure about the chin implants that she got them removed after a year of getting them.
Abraham confessed that she only went to get rhinoplasty and did not ask for the implants. 
However, when her surgery was finished, she was "in disbelief." Her doctor asked her to consider them for a year and see how she liked them without the swellings. 
Abraham obliged, but she did not like it even after a year. As a result, she got them removed. 
Similarly, in 2015, Abraham tweeted two pictures of her swollen lips. She said that her lip fillers were botched, and an ER in California fixed it.