Does Ezekiel Elliott Have a Girlfriend? A Look into His Personal Life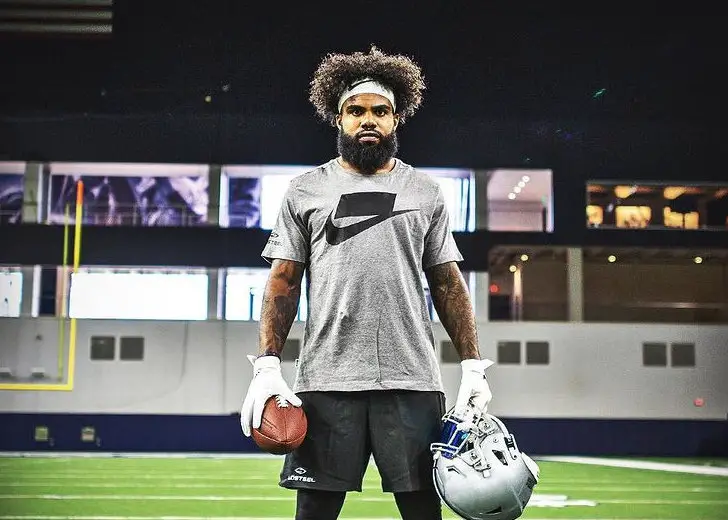 Ezekiel Elliott, the running back of Dallas Cowboys, bares it all on the ground, but it is a different story when it comes to his love life. 
Elliott prefers to keep his love life private, refusing to offer his fans even a glimpse on social media.
But that doesn't stop curious fans from wanting to know if the NFL superstar has a girlfriend.  
Fortunately for these curious fans, some aspects of his love life have been made public thanks to his mother, Dawn Elliott.
According to reports, Elliott is currently in a relationship with Halle Woodard. 
And if her Instagram bio is anything to go by, Woodard is an "aesthetic nurse injector" and a "dog mom of four." 
Here is a breakdown of the running back's love life.
Ezekiel Elliott and His Girlfriend
The duo's relationship was first made public when his mother shared a few photos of his girlfriend, Woodard, on her social media. 
In one of her posts, she wrote Woodard was a beautiful and intelligent young woman and loved her like her own daughter. 
Dawn then concluded the post, noting that she needed to take more pictures of Woodard. 
Elliott took to the comments section with two blue hearts, while Stacy Elliott, Elliott's father, expressed his love. 
However, these posts have since been deleted. 

Ezekiel Elliott and his girlfriend Halle Woodard (Source: B/R Gridiron/Twitter)
There isn't any information on how Elliott and his girlfriend met or how long they have been together. 
But reports claim the duo had once broken up when Elliott was arrested after fighting with a safety officer at the Electric Daisy Festival in Las Vegas in May 2019.
They had even unfollowed each other on social media but by September; they had rekindled their romance. 
On May 29, 2021, the couple emerged from obscurity when they were spotted at a Dallas Mavericks game with Dallas Cowboys quarterback Dak Prescott.
Some fans were excited about seeing Elliott with his lover and noted that the duo had the same hairstyle. 
Ezekiel Elliott's Domestic Violence Allegations
Before Elliott was in a relationship with Woodard, he was linked to Tiffany Thompson. 
Unfortunately for the NFL athlete, his affair with Thompson almost cost him his career and reputation. 
In July 2016, Thompson accused Elliott of multiple instances of physical violence. 
She filed reports with the police, and in those reports, she claimed she was Elliott's girlfriend and that they were living together. 
Thompson also posted images of bruises on her body on her private Instagram account.
Shortly afterward, the NFL started its own investigation under its personal conduct policy. Following this, the NFL found him guilty of the conduct and suspended him without pay for the team's first six 2017 regular-season games.
However, Elliott was not arrested or charged with any crime. 
The police claimed there were no visible signs of injury on the woman or records that she pursued charges.
Meanwhile, according to Elliott's statement, he denied assaulting the woman and noted that they only engaged in a "sexual relationship" and nothing more.