Inside Eric McCormack's Family Life with Wife of 25 Years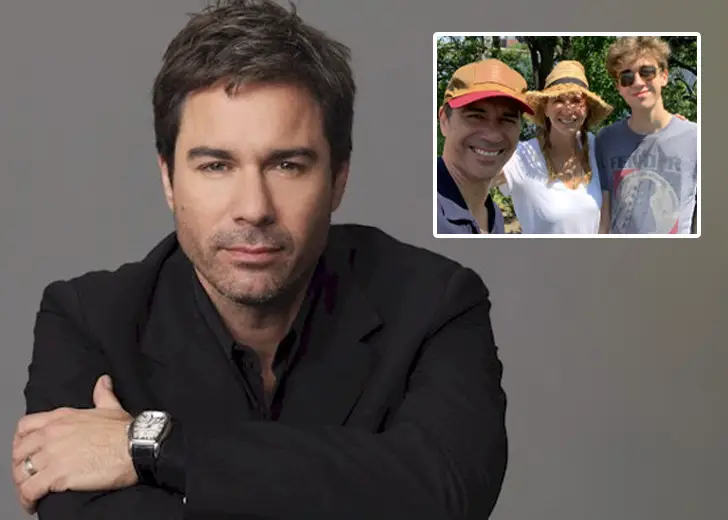 Eric James McCormack is a Canadian-American actor and singer who has appeared in many television series, including Top Cops, Street Justice, and Ally McBeal.
But his most famous work includes the wildly popular NBC sitcom Will and Grace. 
In the series, he starred as Will Truman, a gay lawyer who was one of the first and most well-known fictional gay men at the time. 
The show debuted on NBC on September 21, 1998, and ended on May 18, 2006, for eight seasons. 
And throughout the eight seasons, McCormack's Truman was so loved that the fans and the media speculated that he might be gay. 
But that could not have been more untrue because McCormack was already married to his wife, Janet Holden when the series debuted. 
The rumors have died down, and McCormack has been happily married for 25 years. 
Eric McCormack and His Wife
McCormack first met his wife in 1994 on the set of Lonesome Dove: The Series. 
The actor had landed the role of the stony-faced town baron, Colonel Francis Clay Mosby, while his wife was the assistant director of the show. 
McCormack had just gotten out of a bad relationship, and Holden was unlike any actresses he had previously dated. 
The assistant director wore jeans and drove a pickup truck. The duo eventually fell in love, even though Holden was initially hesitant. 
"At first, she wasn't too keen. She knew actors were a lot of work. It would be like taking your work home with you. But I convinced her," he told The Guardian. 

Eric McCormack and his wife (Source: Eric McCormack/Instagram)
They had to keep their relationship a secret because the latter supervised the actors, and they didn't want anyone to accuse her of giving McCormack special treatment. 
The secrecy added "a little of mystery and danger, which was fun" for the Will and Grace star. 
After one season, Holden moved on from the show, and the duo had no reason to hide their affair. But they had another obstacle in the way — the distance. 
McCormack lived in Los Angeles while Holden was in Canada, but they made it work, and in 1997, they tied the knot. 
Eric McCormack's Children
Naturally, after marrying, McCormack and his wife started a family. On July 1, 2002, they welcomed their son, Finnigan Holden McCormack. 
The actor was almost 40 years old when he had his son, and in 2007, he shared his thoughts on late parenting. 
He noted he was unsure how he felt about people having kids later in life.
A part of him felt it was the right thing to do because he believed people should spend their twenties living and having fun, having no regrets later. 
He also opined that people in their thirties made better parents. 
But the downside was that it wasn't easy being older parents, and gave Charlie Chaplin, who had kids at 70 and couldn't pick them up as an example. 
As for whether his son is likely to follow in his footsteps, the father shared it wasn't in the cards. 
Speaking to New Idea, the Broadway star revealed he once suggested that he take acting classes, but he refused, saying it was not his schtick. 
"He's shown an inclination to run in the other direction of my footsteps I think! The fame part of it has never been something that interested him. He's very independent and very much his own guy," shared the actor.