Inside Emmy Rossum's Beautiful Wedding and Proposal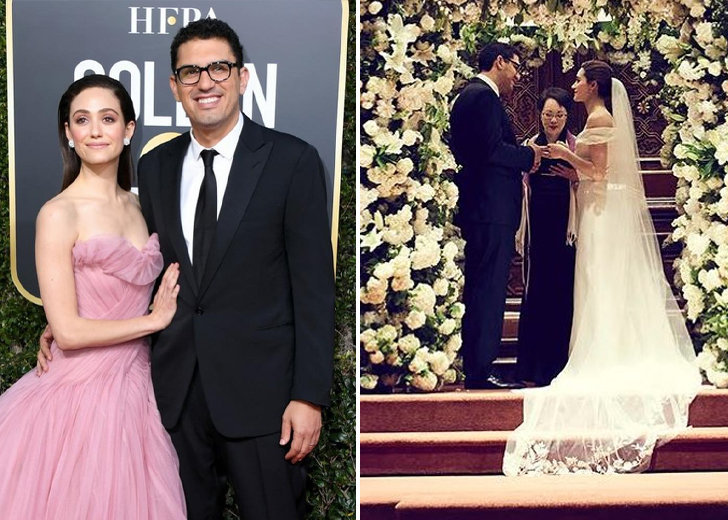 Emmy Rossum and her husband, Sam Esmail, tied the knot in May 2017. 
This was Rossum's second wedding, as she was previously married to Justin Siegel from 2008 to 2010
The intimate wedding celebrations took place at Central Synagogue on East 55th Street in New York City. 
It was a star-studded event with guests, including Robert Downey Jr., Shameless co-stars William H. Macy, and Shanola Hampton. 
Mr. Robot stars Rami Malek, Christian Slater, Carly Chaikin, and Hilary Swank were also present at the wedding.

Emmy Rossum and her husband at their wedding (Source: Emmy Rossum/Instagram)
After the processionals were over, the newly married couple and their guests made their way to the Guggenheim Museum on the Upper East Side for a luxurious reception.
Emmy Rossum Opened up About Her Wedding
Rossum opted for an embellished, all-white, off-the-shoulder Carolina Herrera dress with a dramatic train. 
The Shameless star shared to Vogue that she knew she wanted Herera as her wedding dress designer. 
On the special, Rossum worked with Jo Baker, who did her bridal makeup, and stylist Thomas Carter Phillips who helped her accessorize. 
And the most important accessory on her special day was her vintage Chaumet round-cut diamond engagement ring, circa 1920. 
She told the outlet that she and her husband had actually seen during the initial days of their relationship. 
At the time, Esmail had asked her what kind of ring she would like if they got married one day. 
"And so I said, 'I'd like something like this.' It's old; I like things that are old, I like the history behind them, I like to imagine who wore them before," shared the Poisedon actress. 
But little did she know that her husband would return the store later that week and put a deposit on the ring. 
Emmy Rossum's Husband's Sweetest Proposal
Two years later, the Mr. Robot creator proposed with that ring. 
Rossum also opened up about the sweetest proposal telling Vogue that the couple read New York Times' "Modern Love" section every Sunday. 
"I do a dramatic reading of it for him. Even if we're not in the same place, I read it to him over the phone," shared Rossum. 
But one Sunday, for some reason, they missed it, but the following Friday, Esmail reminded her that she hadn't. 
Rossum, who was in a bad mood, refused at first, but after some persuasion from her husband, she read it while taking a bath and sipping on a glass of wine. 
As she was reading, she realized the story was about a director falling in love with an actress which she found familiar. 
At first, the actress thought Esmail had actually put up their story in the paper, and everyone but she had known about it.
But when she scanned to the end and saw "Love, your Sam," she realized Esmail had gone through this whole process of writing this entire story.
The director had asked a friend from the newspaper to print a legitimate mock-up of the paper. 
When she realized it was a proposal, she got out of the bath, wrapped herself in a towel, and started reading again. 
By the time she was finished, her husband was in the tub with her, down on one knee. 
And to this day, the couple is much very in love.