Twins Emily Ferguson and Haley Ferguson Celebrated Their Bridal Shower Together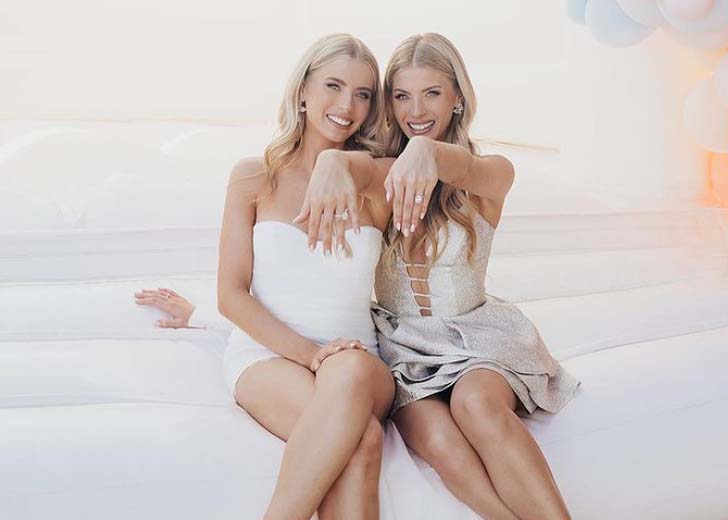 Twins Emily Ferguson and Haley Ferguson are getting ready for their big day!
The sisters rose to fame after appearing on The Bachelor and Bachelor in Paradise. But unfortunately, neither of them found love on reality TV shows.
Instead, they met the love of their lives off-screen. The Ferguson sisters got engaged to their respective boyfriends around the same time, and now, they are planning a wedding together.
The twins have been preparing for the wedding with their partners for over a year. They have shared it all on social media, from their engagement to their bachelorette party.
The twins recently revealed a gorgeous bridal shower on their Instagram as they approach closer to their wedding days.
Emily Ferguson and Haley Ferguson's Joint Bridal Shower
On May 6, 2022, the twins revealed their "dreamy" combined bridal shower.
They showcased a pastel-colored event filled with champagne toasts, friends and families, endless floral arrangements, colorful balloons, and even a bouncy house in Instagram posts on both of their profiles.
Haley uploaded photographs of the sisters posing, showing their rings and a wedding shower banner. The last video in her post showed the Fergusons jumping in the bouncy house, enjoying their day.
Haley penned the caption, revealing that she had been absent from social media because her life had been "extra hectic." She opened up about the "dreamiest bridal shower" she had on April 30, 2022.
She thanked everyone who helped with the shower and admitted that she finally had "some time to relax before the wedding." She ended her captions with hashtags, "#bridalshower #bridal #wedding #bridetobe #2022bride."
Emily also shared a video compilation of some of her favorite moments from the day. In addition, her collection recorded part of the food, including a toast bar and many pastries, her sister, family, and decors of the party.
The background music for the video was a cover of 'Still Into You' by Paramore. Emily began her caption, "Here's to a lifetime of butterflies."
Butterflies seemed to be the theme during the bridal shower, and the sentence was also spotted on a placard. Like Haley's caption, she confessed she could not have dreamed of a more beautiful setup.

Twins Emily Ferguson and Haley Ferguson in their joint bridal shower. (Source: Instagram)
She thanked her friends and family for showering the twins with love and for everyone else who made their bridal shower successful.
In an interview with US Weekly, Haley said the party was held in the backyard of Emily's house. A few of their bridesmaid helped them with the shower.
Haley gushed about how special it was to have their closest friends and family at their party. She confessed the twins were excited "to finally tie the knot and be married women."
The Twins and Their Fiancé
Haley got engaged to fiancé Oula Palve on May 16, 2021, and took to Instagram to share the good news with her fans and followers.
She posted a series of images on social media, including the athlete getting down on one knee.
She wrote, "I am ENGAGED to the man of my DREAMS! @oula7 thank you for choosing me. Will I ever stop crying/smiling…probably not!"
Palve is a Finnish-born hockey player who has played for various clubs since his professional debut in 2011.
On the other hand, Emily got engaged to her fiancé, William Karlsson, six months before her twin. Karlsson popped the question on December 11, 2020, and the Bachelor alum took to Instagram to share it.
She gushed about dreaming about her engagement since she was a little girl and how happy she was because her fiancé was her perfect person. She wrote, "I can't wait to grow old and laugh with you forever."
Karlsson is a Swedish professional ice hockey forward for the NHL's Vegas Golden Knights.