Emily Compagno Recounts Secret Wedding to Husband Peter Riley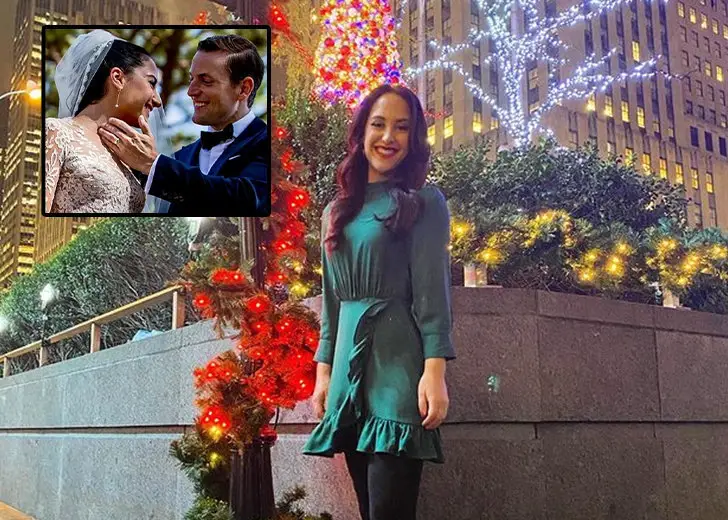 For all the fans wondering, "Is Emily Compagno married?" the answer is yes. Compagno has been married to her husband, Peter Riley, since September 2017.
She is notoriously private about her personal life, but professionally she has left a prominent mark as an attorney, TV host, and former NFL cheerleader. 
She passed the California bar, began working as a criminal defense attorney, and became the captain of the Oakland Raiders, cheerleading a team called Oakland Raiderettes. 
After that, she was selected by the NFL as an ambassador and became one of the five USO cheerleaders.
In 2018, Compagno joined Fox News and co-hosted a talk show named The Five. She later became the permanent co-host of Outnumbered. 
Despite being private about her life, the television personality opened up about her runaway wedding to Layers of Luxe Weddings Magazine. 
Emily Compagno's Wedding with Her Husband
The couple's wedding was held at the gorgeous Villa Cimbrone in Ravello, Italy. They chose their friends, Jos and Tree WoodSmith, of JOS Studios to design their intensely private wedding.
The bride wore a beautiful dress made in ethereal layers of nude silk chiffon by Suzanne Hanley.
Meanwhile, her partner wore a custom-tailored navy tuxedo, with gold cufflinks handed down from groom to groom by Compagno's father's Sicilian family.
He accessorized his look with a watch Compagno gifted. The watch was engraved with "ti amo per sempre," which translated to "I love you forever."

Emily Compagno at Operation Gratitude on November 12, 2021 (Source: Emily Compagno/Instagram)
The ceremony took place at the outdoor Tea Room Pavilion, decorated with flowers and accompanied by a solo violinist.
Compagno walked down the petal aisle amongst the roses as Tomaso Albinoni's intoxicatingly stunning composition, 'Adagio in G Minor,' played in the background. 
As for the vows, the husband and wife wrote them on their own and exchanged the rings, marking the conclusion of the "emotional and joyful ceremony." 
The newly married couple spent the entire day exploring the Terrazza dell'Infinito gardens and the tiny 5th-century town of Ravello. They watched the sunset together and had their private dinner and reception in the extraordinary Crypt. 
The private villa had an expansive view of the sea. And for their dinner, the Villa's Michelin star restaurant, Matrodi Baldo Durazzo, served them a four-course meal. Following that, the couple danced the night away. 
After a celebratory breakfast the next morning, they took a ride on a speedboat to the Amalfi Coast to Positano and stopped for swims and lunch along the way.
Emily Compagno and Her Husband's Love Story
The Outnumbered host and Riley met as teenagers. While nothing romantic brewed at the moment, they fell in love when they crossed paths serendipitously on a Seattle sidewalk after 16 years. 
Compagno and her spouse planned an Italian wedding to honor her family's southern Italian culture. 
A day after their wedding, she posted a photo of her husband's wedding ring on Twitter. She shared her partner had forgotten to put on the ring.  
There were comments from her fans who congratulated her and said she married the wrong guy, albeit jokingly.
But some defended her spouse, noting he had just forgotten to put it and hadn't lost it. They even requested her to cut him some slack.