Drew Scott and Wife Linda Phan Expecting a Baby — Inside Their Emotional Journey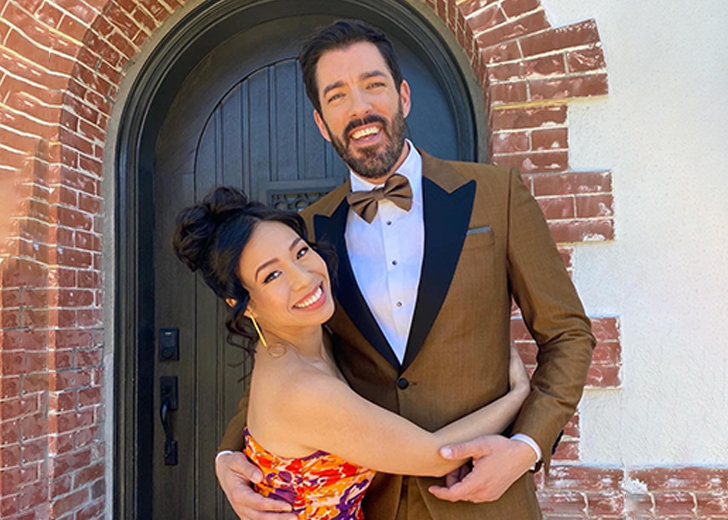 Drew Scott and his wife Linda Phan are over the moon since finding out they are pregnant with their first baby.
On December 20, 2021, the reality television personality took to Instagram to announce that he and his wife of more than three years are expecting a little one.
He also shared a couple of mirror selfies of himself and his wife showing off Phan's baby bump.
"...guess we're doing weekly bathroom selfies now," he wrote in the caption.

Drew Scott and his wife Linda Phan showing off her baby bump. (Photo: Instagram)
Speaking on their podcast, At Home with Linda & Drew Scott, the couple revealed they received good news in August 2021 and are now preparing to welcome the baby in May 2022.
Drew Scott and Wife Struggled to Start a Family
There is a reason why Scott and Phan are celebrating the pregnancy news with more joy and happiness.
The couple reportedly struggled to have a baby and start a family since tying the knot in 2018.
During the podcast, the two also admitted that they eventually received good news after a two-year fertility journey that included IUI and IVF treatments.
They further shared that they first tried IUI (intrauterine insemination) after struggling to conceive. But when that failed, they tried IVF (in vitro fertilization), which was successful.
"For a while I wasn't sure how much I wanted to share, or if I wanted to share at all," Phan said about going public with their struggles in a candid exchange.
She continued to add, "Even with close family and friends, we didn't tell them right away just because I needed to process the feeling myself before diluting it with other people's excitement."
She then explained that after discovering she was pregnant, her initial feelings were muddled by the long and often strenuous path to conceiving.
In addition, they also recorded a short but emotion-filled vlog, where they documented the ups and downs of the IVF process.
In the video, the Property Brothers co-host could be seen giving Phan shots in her stomach and visiting doctors, along with Phan meditating, goofily dancing to the beat of her heart monitor in a hospital bed, and looking at an ultrasound and a heartbeat.
Grateful Towards Doctors, Friends, and Family
Even the pregnancy announcement post had a joint statement [post caption] from the couple, where they briefly talked about their emotional journey.
"It has been an adventure to get here! We know we're not alone in this experience and that everyone's is filled with unique challenges along the way," the statement read.
The power couple revealed that when they first started the fertility journey, they quickly felt appreciative of the doctors they had been working with, as well as their family and friends.
The love and support from everyone made the overwhelming time in their lives more manageable.
The emotional note ended with, "We hope as we grow through this, that even one of you reading this can also feel a little less lonely in whatever path you're on!"
Since the announcement post, Scott and Phan have looked happy — and have been regularly sharing updates about the pregnancy journey.