Doug Savant Raised His Children with Wife Laura Leighton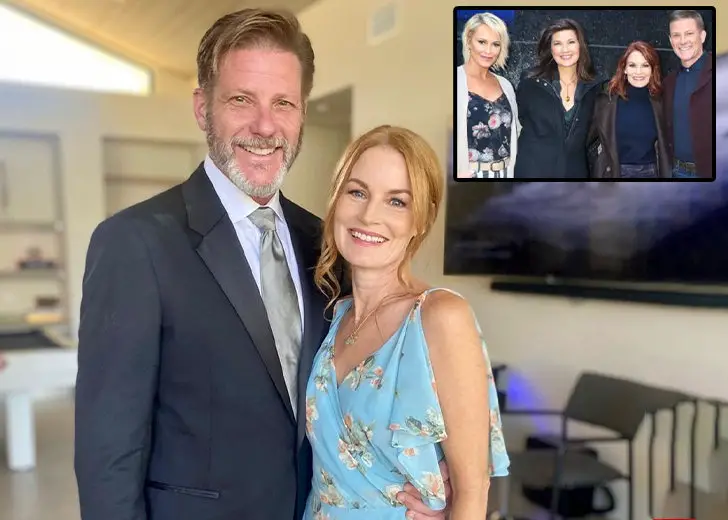 Laura Leighton and Doug Savant, stars of the renowned American prime-time soap opera Melrose Place, could never have imagined that their on-set romance would lead to a happy marriage as husband and wife.
Savant, 57, has been married to Leighton, a former co-star, since 1998, and the pair have two children together. He also has two children from his previous marriage to Dawn Dunkin Savant.  
They are Arianna (born January 17, 1992) and Madeline (born July 20, 1993). The couple divorced in 1997.
For the first six seasons, Savant portrayed Matt Fielding, an openly homosexual social worker, who was one of the first gay characters on major network television.
He eventually went on to play Tom Scavo, Felicity Huffman's husband, in ABC's Desperate Housewives. Since then, he's appeared as a guest star on Hawaii Five-0, Lucifer, 9-1-1, and NCIS.
Doug Savant's Wife Laura Leighton
Leighton played Sydney Andrews, a laid-back young woman.
Originally, the character was only supposed to survive a few episodes of season one, but she turned out to be one of the most popular characters of the show.
Leighton and Savant met on stage, and their bond grew quickly. Despite this, they did not begin dating immediately.
Leighton and Savant first became romantically involved in 1997, after having worked together for a long time.
Doug Savant and Wife on Parenting Their Children
Although the couple has made a good livelihood as actors, Leighton hopes her children choose a career other than acting.
She claims that the couple has done nothing but discourage their children from pursuing an acting career from the very beginning.
She also said that she would be "completely horrified" if they didn't listen.
"We tell them you will not go into this business! And so far they're not interested (knocks on wood) so we are hoping that remains the case," told Leighton (as per People).
Leighton, 53, had an embarrassing experience with Jack when he read a Melrose Place poster with the tagline "Tuesdays are a b-tch."
Laura admits that "it was a hard one to explain," and that she had "never thought about it" before.
Savant loves to spend time with his children. In an interview with People, he said that he was excited about his upcoming "moment of the summer" with his son Jack.
At that time, the actor was coaching a team of 7- and 8-year-olds to play for the Pinto World Series.

Doug Savant's children posing for a picture. (Source: Leighton's Instagram)
"My favorite moment of the summer will be this weekend. That accomplishment — that our kids have gone that far — will be my moment of the summer," told Savant.
Their daughter, Madeline, recently had her wedding. Leighton posted on her Instagram about the event, cheering the bride and groom for their togetherness.
Although Savant rarely posts on social media, the family is seen together in many instances on Leighton's Instagram.
She seems really grateful to have them.
"I am feeling gratitude for my many blessings, most of all for these 4 humans," reads a caption of a post about their kids on her wall.