DJ Ashba Revisits Rare Wedding Pictures with Wife Nathalia Henao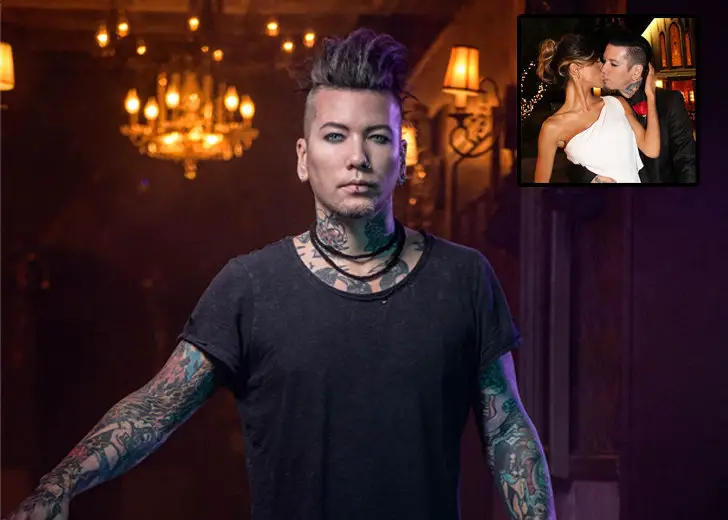 Guns N' Roses and Sixx: A.M.'s guitarist DJ Ashba tied the knot with his wife, Nathalia Andrea Ashba, in September 2013. 
And after eight years, during their wedding anniversary on September 24, 2021, the famous guitarist shared rare "never before seen wedding photos."
Ashba uploaded two different snaps where the couple was locking lips. He was suited up in an all-black outfit while his wife donned a simple white toga floor-length gown. 
In the caption, he revealed he met her 11 years ago when he least expected it. 
The rock icon recalled he was on tour in Rome, and he didn't want to go out that night, but his Guns N' Roses dragged him out, anyway. 

DJ Ashba's wedding photo with his wife (Source: DJ Ashba/Instagram)
They ended up in a badass outdoor nightclub, and there he met the girl "he had been chasing in his dreams" and wished his partner a happy anniversary. 
His wife, too, shared photos with the guitarist in honor of their 8th wedding anniversary.
A month before their wedding, the musician had proposed to his woman, but their proposal sparked a police investigation. 
DJ Ashba's Controversial Proposal to His Wife
On August 8, 2013, Ashba announced on Twitter that he was engaged, writing "she said yes."
Another tweet from Ashba read, "We can't thank you all enough for the beautiful love and support that you show us! much love!!"
The guitarist had not revealed how he had proposed to his partner, but his famous bandmates, including Axl Rose and fans, congratulated the couple. 
However, on August 10, he finally revealed the proposal's details with an elaborate description in his Instagram post's caption. 
Ashba shared he had arranged for a private Helicopter tour over Vegas with Las Vegas Police Department's help. 
According to Loud Wire, the police department officials were upset with the "misuse" of the helicopter, prompting a four-month investigation.
Police Captain David O'Leary, who Ashba gave a shout-out to on his Instagram post, and the pilot who flew out the couple were under investigation. 
Unfortunately, O'Leary retired after learning that he would be demoted to lieutenant. After that, Ashba spoke out about the incident, telling Fox 5 that no rules were broken. 
"They act as if we jumped a fence and stole a helicopter, and that's not what happened. There's a lot of false information fed to the public. We followed protocol. It was an approved ride," said the guitarist. 
Who is DJ Ashba's Wife?
Nathalia Andrea Ashba was born as Nathalia Henao in 1991. 
She moved with her mother to Italy at a very young age, and at 12 years old, she strutted her stuff down a catwalk in Milan. 
And since then, the spotlight never left her. In 2013, she won the Miss Model of Europe title, which kicked off her Italian TV career. 
Henao eventually moved to the United States, settled in Las Vegas, Nevada, and met her husband. 
Currently, she channels her energy in fashion, beauty, and music careers. 
Her first single, 'Sin Miedo,' exceeded one million streams on all digital platforms and was in the top 1 for a radio station in Paraguay.