DeMarcus Lawrence Is An Absolute Family Man- Know About his family and kids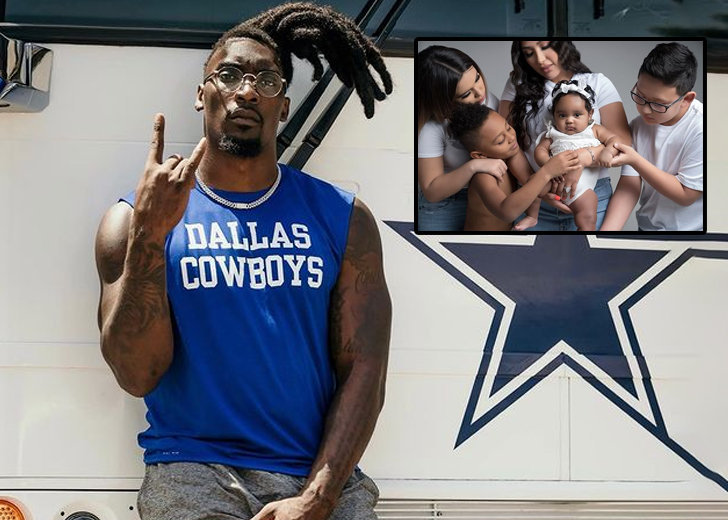 The Dallas Cowboys defensive player DeMarcus Lawrence is happily married to his wife Sasha Lawrence, whom he met in 2012.
After being romantically attached for four years, the duo engaged in 2016 and eventually tied the knots in 2019.
The couple shares two kids, and the player never misses out on any chance to show how much he loves his partner and kids.
Demarcus Lawrence and His Wife
Lawrence and his partner have been in a relationship for a decade. Their bond is going strong than ever.
The duo posts their vacay pictures, their family shots, and updates their fans about their relationship with each other and their kids. 
In an Instagram post, he and his spouse could be seen enjoying their vacation, and the love between them is what their fans adore the most.
In 2019, Lawrence took to Twitter and said he was grateful for his teammates, but he was most thankful towards his partner and kids. He added his family has always been his primal support system.
On Mother's Day, May 10, 2021, he celebrated his spouse by posting a picture of his family of six on Instagram. He complimented his spouse in the caption, saying she completed his life and was the best thing ever happened to him.
Amid the pandemic, the two-time Pro Bowler was having difficulty deciding whether or not to play the rest of the season.

DeMarcus Lawrence and his wife enjoyed their vacation. (Source: Sasha Lawrence's Instagram)
Lawrence's partner had always supported him and pushed him to thrive for his football passion when he almost opted out of a season.
"My decision was made by my wife," Lawrence explained. She told him that there was no way he could miss it and he had to play for his family.
On the other hand, his partner said that we have to make sacrifices in life; even if that meant being the only parent at home, she would do it. So she told him to give it his all and that she would do the same.
Demarcus Lawrence and His Family 
Lawrence has a son and a daughter, but their family consists of his wife's son and daughter from her former partner. He considered them as his children and members of his family.
The couple welcomed their first son Damari Lawrence in 2014. But, Lawrence couldn't be with his spouse during her pregnancy as he was in Dallas prepping for his rookie minicamp.
In 2020, they welcomed their second child, a daughter.
He is an absolute family man who cares for his family and listens to their opinions.
He was proud of his wife and said while she took care of his home, he made sure he focused right on his game and didn't let his family down.
His Instagram is filled with pictures of his wife and kids. During the pandemic, he made sure to be with his family and spend time with them.
Similarly, his partner also praises him, goes to his games, and supports him in every possible way.
Her Instagram bio, which she maintains as "wife to DeMarcus Lawrence," also depicts her immense love to her husband.