David Labrava's Life Has Never Been the Same since His Son's Death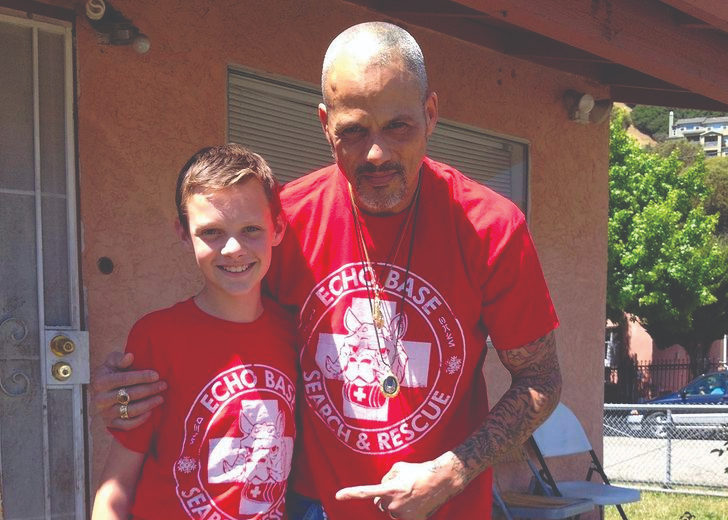 Sons of Anarchy star David Labrava lost his son Tycho to suicide in May 2018. He took to Twitter and Instagram to break the sad news a few days later.
Posting several pictures of himself with his son, Labrava revealed he had never thought a day would come when he would have to talk about his kid no longer being with him.
"He took his life a couple of days ago at 16 years old," Labrava wrote. "He suffered from a depression we couldn't see because he was a happy young kid."

David Labrava with his son Tycho and dog. (Source: Instagram)
Labrava then urged his followers to communicate with their loved ones as they could similarly be battling depression despite there not being any signs.
"Cherish them," he added, followed by a hand joined in prayer emoji. "I am broken."
Many SOA fan and co-stars expressed their condolences to Labrava and his family.
Labrava's co-star in SOA, Emilio Rivera, replied to the Instagram post: "My heart goes out to You and Your Familia Brother, Very Sad News. RIP Tycho."
A fan tweeted, "I suffer with major depression and tried to take my life once… it's really good to talk to someone even if you don't want to. I'm sorry for your loss David."
David Labrava and His Son Tycho
Since his son's death, Labrava has talked about his child several times. He also dedicates a post to Tycho every year on May 5, the date of his death.
Two years after losing his son, Labrava wrote how despite no longer being with him, Tycho continued influencing his life.
"You might be gone but you are never forgotten. You changed my life on this plane and for the next one," he wrote.
"Ever teaching ever learning ever changing never dissipating or disappearing only transferring I feel your energy all around me like blanket. Always by my side."
In another post he made a year later, Labrava noted that life had never been the same after Tycho took his own life, nor would it ever be.
He Set up a GoFundMe for His Tycho's Last Wish
Following Tycho's death, Labrava set up a GoFundMe page to fulfill his kid's last wish, which was to "give all [of his] money to a depression and bipolar organization."
"On May 5th, 2018 Tycho Spelis Chiusano decided to end his life. He was 16 years old. He quietly suffered from depression for years and didn't know how to ask for help," the page reads.
Labrava also noted that 100% of the money raised would go to charity.
The page raised over $22,500 from over 300 donations for the organization. The page also encouraged people to join in the fight to raise awareness of signs of depression.