Cordarrelle Patterson and Girlfriend Work to Prevent Pregnancy Tragedies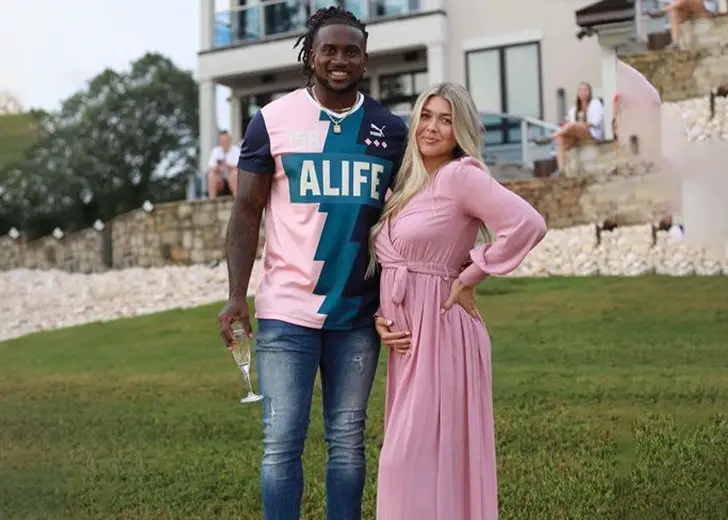 Cordarrelle Patterson and his girlfriend, Taylor Quick, lost their baby son Zyan back in 2017. Quick was already 18-20 weeks into her pregnancy.
However, it was only when they delivered their son that they found out they had lost him.
In memory of Zyan, Patterson wears a gold chain around his neck every day. "It has our son's name on it and the lion on the back is his birthday," he told Sports Illustrated in December 2021.
"Every day he's on my mind. Every day, I'm praying and thanking God for the opportunities I have and for the family I have right now. He's missed. He's gone, but never forgotten."
Patterson added it was something people find hard to process because they never think it can happen to them. However, people lose their infants every day, and back in 2017, it happened to him and his girlfriend.
Cordarrelle Patterson Supports Pregnancy & Infant Loss Awareness Campaign
The NFL star has since put his efforts towards raising awareness regarding pregnancy and infant loss.
Towards the end of 2021, Falcons players raised awareness for several non-profit organizations on the field for the "My Cause My Cleats" game.
During the Falcons' week 13 challenge against the Tampa Bay Buccaneers, Patterson wore a cleat dedicated to the aforementioned cause.
Cordarrelle Patterson and his girlfriend Taylor lost their son during pregnancy in 2017.

He's wearing "pregnancy & infant loss awareness" cleats in Week 13.

"Every day goes by we still think about our son. … You never think it can happen to you." pic.twitter.com/f4kyh1l0yV — Bleacher Report (@BleacherReport) December 5, 2021
Patterson supported Pregnancy & Infant Loss Awareness campaign by wearing colorful cleats with shapes of butterflies and a baby printed on them. The words "Pregnancy & Infant loss awareness" were also written on them.
Like Patterson, his teammates also supported organizations/causes of their likings. 
To name a few, Josh Andrews supported Project Sleep, Mike Davis supported Prostate Cancer Foundation/Children's Healthcare of Atlanta, and Matt Ryan supported At-Promise Youth & Community Center.
Corderrelle Patterson and Girlfriend's Relationship
Patterson has revealed very little about his personal life. He does, however, take to Instagram every so often to post about his girlfriend.
It's not exactly known when they got together, but they have been together for roughly a decade or even longer.

Cordarrelle Patterson with girlfriend Taylor Quick and their kids. (Source: Instagram)
On August 1, 2021, his partner posted a picture of their family hanging out during Falcons' training camp 2021. "Year 9! We love you 84!" she captioned the post.
Going through his and his girlfriend's Instagram, you can find pictures of two sons and a daughter.
However, Atlanta Falcons has reported that the athlete has four children — two boys and two girls.
Patterson also posts about his children often. In March 2021, he posted a picture of his then four-month-old son.
A year earlier, he had made a post to wish his daughter a "happy birthday." In the caption, he wrote how much he loved her.
Cordarrelle Patterson Is a Family Man
Patterson is incredibly close to his family. He was brought up by his mother Catherine, alongside his brother Charles and sister Crystal in Rock Hill, South Carolina.
His mother and siblings are regulars at his home and Falcons game. He also talks to his mother and sister three to four times a day.
Patterson has tattooed the words "faith, family, football" on his leg to represent the three things that define him the most.