4 Times Cody Ko's Girlfriend Flaunted Their Picture Perfect Relationship on Instagram
Cody Ko's girlfriend Kelsey Kreppel doesn't shy away from showing off their love.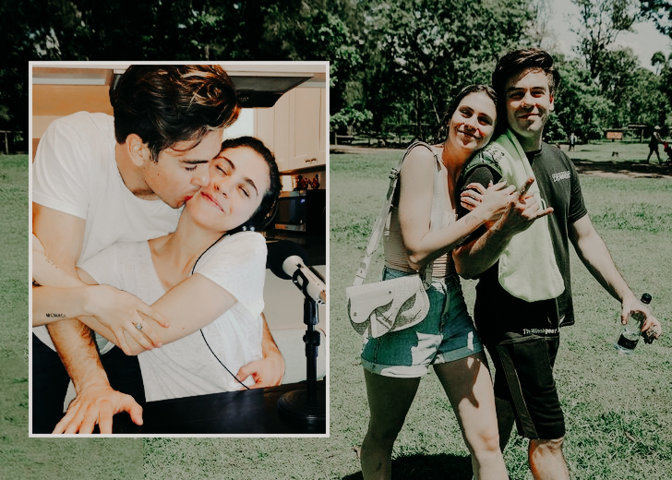 Cody Ko was dubbed "one of the internet's original stars" by Forbes, and for a good reason. The social media star has left his mark on practically every worthwhile social platform and settled on YouTube as his primary base of operations. 
As of this writing, the YouTuber and self-professed internet bad boy boasts a massive following of over 5.6 million on YouTube. As for his girlfriend, Kelsey Kreppel, she is also a YouTuber, albeit not as successful as her beau. 
But that hasn't stopped her from flaunting their picture-perfect relationship on her socials. Here are four times Kreppel showcased their adorable relationship on Instagram. 
Happy Birthday Ko!
There are few gestures of saying "I love my boyfriend," which can top a slideshow of snaps that begins with you licking his hair in public. And that is exactly what Kreppel did!
On November 23, 2020, Kreppel took to her Instagram to celebrate Ko's birthday with a series of adorable candid snaps. The slideshow saw everything from the couple sharing a drink to feeding kangaroos and ended with Ko doing what appears to be a Jim Carrey impression with their pet dog. 
Modeling for Her Beau
Like many other successful YouTubers, Ko lets his fans show their support by purchasing his merch. And being the loving girlfriend that she is, Kreppel had to help. 
On March 6, 2021, the up-and-coming YouTuber shared another carousel of snaps on her Instagram, where she donned her beau's merch. The first still in the series showed Kreppel twerking for the camera as Ko pointed at her. 
The second snap saw her hugging her boyfriend as the camera captured what can only be described as a meme-worthy face, while the next two snaps were zoomed-in renders of the same picture. 
The confident girlfriend then announced in the caption that she killed the photoshoot!
Jump the Beat
You know what they say, "A couple that twerks together, stays together." While that might be the exact saying, Kreppel and Ko exemplify this truth. A video Kreppel uploaded on January 13, 2019, proves this hypothesis.
The video captured the adorable couple doing more of their shenanigans, i.e., flaunting their hilariously ridiculous dance moves for their fans to enjoy as Teesingle's 'Butterfly Doors' played in the background.
That wasn't the only time that they flaunted their dance moves. A few months prior, on June 19, 2019, the doting girlfriend uploaded a similar video of the couple jiving to Blueface and Rich The Kid's 'Daddy.' 
To be fair, it was mostly Kreppel doing the dancing while her boyfriend stared awkwardly into the camera. Eventually, he warmed up to the beat and attempted a few dance moves.
In his defense, she confessed that he was forced into making the video. The beautiful couple will be celebrating their fourth anniversary this September.