CM Punk Wouldn't Have Met His Wife If He Wasn't in Wrestling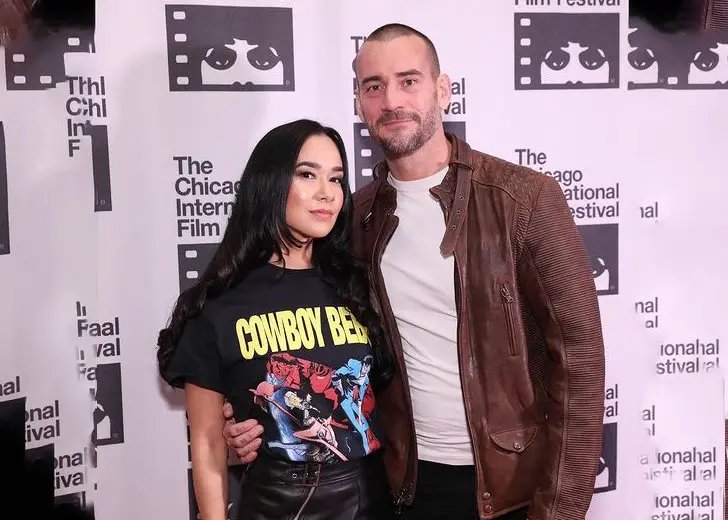 Phillip Jack Brooks, best known as CM Punk, is a renowned wrestler from World Wrestling Entertainment (WWE) and All Elite Wrestling (AEW).
He has many accolades under his belt, like the World Heavyweight Championship, WWE Championship, and the Intercontinental Championship. 
While wrestling has helped his career a lot, it has also fueled his love life. Punk credits the sports for helping him meet his wife, April Jeanette Mendez, aka AJ Lee.
Here is everything you need to know about the couple and their love story. 

CM Punk and his wife, AJ Lee. (Source: Instagram)
CM Punk and His Wife, AJ Lee 
The wrestler talked about his career and meeting Lee on the Wrestling Perspective Podcast (via Wrestling Inc). Punk said that he was forever thankful for wrestling because of two things - money and Lee. 
He probably would not have met Lee if it were not for wrestling. Lee is also a professional wrestler who retired in 2015. 
Since both of them were involved in the same field, it was easier for them to meet each other. Similarly, the money from wrestling has helped Punk travel and live his dream. 
I've been everywhere twice because of wrestling. I met my wife, all the fans bought my house, so I appreciate that.
Punk is very dedicated to Lee and is head over heels in love with her. It is reported that he even left the WWE to focus on his marriage. 
Once, the WWE champion even said that Lee was the "most awesome human being" he has ever met. He has been linked with many people while he was wrestling. 
Punk confessed that he messed up several relationships throughout his career. But regardless of them all, he is currently in a happy relationship with Lee. 
It is unknown how long the pair dated, but they married on June 13, 2014. For Punk, the best night of his life was when he married Lee. 

CM Punk and his wife, AJ Lee, on their wedding day. (Source: Instagram)
He revealed it in an interview with ESPN after his MMA debut. While he did not win the fight, he said being inside the octagon was the most fun he had ever had.
He also said it was the "second-best night of his life," since marrying his partner was the first. in the same interview. In the same interview, he also confessed how hard it was for him to live a long distance from Lee.
This was because no matter how difficult his day was, he would always get back to Lee and their dog. He said going home and kissing his wife was a luxury to him. 
The two do not have any kids yet. However, Punk has mentioned wanting to have them someday.
In a 2014 interview with Chicago Tribune, the wrestler said he always wanted a little girl. 

CM Punk's anniversary post with his wife, AJ Lee. (Source: Instagram)
CM Punk's Other Relationships
While Lee is Punk's one and only spouse, he has been linked with many ladies in the past. Most of them were fellow wrestlers like Lee. 
Some of them were Traci Brooks, Daffney, Becky Bayless, Mickie James, Lita, Maria, Kelly Kelly, Serena Deeb, and Beth Phoenix.
Regardless of being linked to all these wrestlers, Punk married the wrestler of his dreams.