Chris Paul Is Happily Married to Jada Crawley Alongside Two Little Copmpanions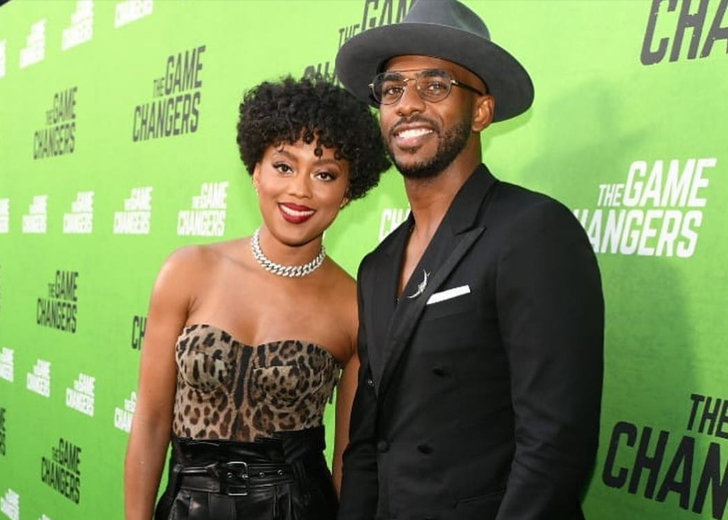 Chris Paul has been a happily married man for ten years and counting. Having met his wife, Jada Crawley, at just 18, the couple has been together for 20 whole years.
The NBA star's love story actually began when he met Crawley for the first time during a basketball game that they both attended. 
As per reports from The Focus, both of them grew up in North Carolina and attended neighboring high schools. 
The outlet also revealed that the baller and his fashion designer wife went to the cinemas for their first date and watched Love Don't Cost a Thing.
Chris Paul & His Wife Married for 10 Years
After dating for almost a decade, the couple tied the knot in October 2011 in their native North Carolina at the Ballantyne Hotel & Lodge in Charlotte.
In the wedding photos exclusively captured by Essence, the bride and groom posed with their son Chris II, or Lil' Chris as he is more affectionately called. 
Of course, the couple could celebrate the bond between the two of them without celebrating their son. In a gushing statement to the outlet, they said, 
We never knew it was possible to love someone as much as we love each other until you came into our lives.
Both the Chris' attended the wedding in matching outfits — a pair of custom made Ralph Lauren Black Label tuxedos.
Chris Paul Loves Kids
"My son is my road dog. We're wearing matching cufflinks and everything!" the proud father told the outlet. 
Paul also insisted that his love for kids was common knowledge and now that he had his own son, there wasn't a feeling that was even comparable. 
Understandably, the couple wanted more children. Since their marriage, the couple has also become parents to a daughter by the name of Camryn. 
While on the subject, Chris was born in May 2009, while Camryn was born in August 2012. 

Chris Paul with his daughter Camryn Paul (Source: Instagram)
Much like her father, little Camryn has also shown affinity to basketball and was also by his side when he received the Kobe & Gigi Bryant WNBA Advocacy Award in February 2022. (via bck)
About Jada Crawley
Crawley was born in Winston Salem, North Carolina, on February 16, 1984, and spent most of her early years in her hometown. 
Whilst her shot at fame came because of her husband's professional basketball career, she also leads a respectable career of her own. 
She is a fashion designer by profession and is also one of the founding members of the Chris Paul Family Foundation, a charitable institution established with the aim to provide resources to the community, promoting equal access to sports and education.
The Pauls have always been ones devoted to giving back to the community, but since the NBA star player cannot stay back to run the CP3 Foundation, the wife takes care of the daily operations. 
Apart from that, Crawley hosts a Prom Dress Giveaway Drive every year called Jada Paul Prom Dress Giveaway. 
This yearly event brings together high school seniors and helps them with activities like makeup tutorials, braid bars, fashion shows, amongst other things.