Inside Chloë Grace Moretz and Ex Boyfriend Brooklyn Beckham's Break Up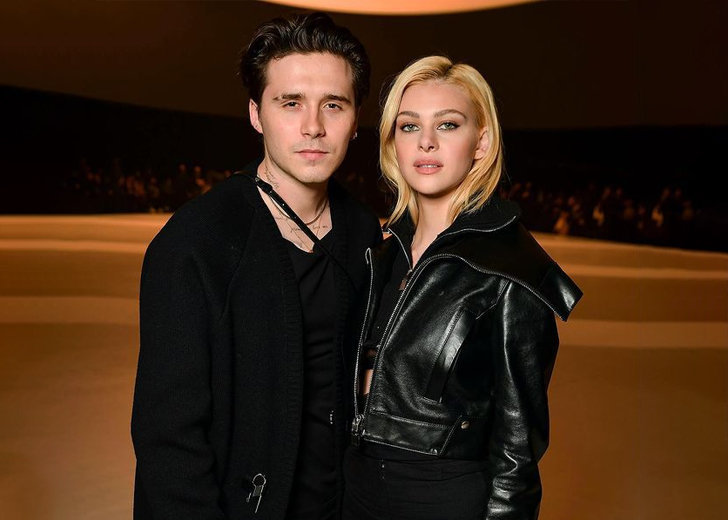 The eldest son of English football player David Beckham and former spice girl singer Victoria Beckham, Brooklyn Beckham, is a model and photographer.
His name is associated with many girls, but his on-again-off-again relationship with Chloë Grace Moretz created quite a buzz.
Chloë Grace Moretz and Ex Boyfriend Brooklyn Beckham 
The 24-year-old actress Mortez and her boyfriend Beckham have always been the couple to confuse fans with their relationship status.
The speculations of their togetherness started when they first met at 2014 Paris Fashion Week.
However, they were never seen together after that. That was until a picture of them skating together went viral in July 2014.
Later they were spotted going to the Made in America Music Festival and SoulCycle together the same year. 
The Greta actress dodged the question in several interviews regarding her relationship status with Beckham, as she seemed to dislike disclosing too much information.
However, she spoke highly of Beckham in an interview with Teen Vogue, where she explained how impressed she was with Beckham and his passion for soccer. 
In 2016, Beckham posted a picture of them together, which was re-posted by Chloë captioning it, 'FINALLY.'

Brooklyn Beckham and Chloë Grace Moretz Skating (Source: Instagram)
This seemed to indicate that they were back together. But confirmation of the fact was made after Moretz admitted she was dating her boyfriend Beckham on Watch What Happens Live. 
After going official, the couple constantly posted pictures, shared stories, and exchanged sweet words with each other. 
They walked the red carpets together, went on vacays and embraced their love for one another. 
Later, in September 2016, Page Six reported the boyfriend and girlfriend duo had broken up, after they got into a massive argument at a Coldplay concert.
This news didn't surprise their fans as the couple had split up multiple times in the past. 
In 2017 the Mortez and her boyfriend rekindled their relationship and made things official once again as they shared a cuddly picture of Moretz's feet resting on Beckham's lap.
While the couple was enjoying their love, they parted ways for good in 2018, and soon Beckham was spotted kissing Playboy model Lexi Wood.
Brooklyn Beckham and His Love Interests
Beckham's been in a relationship with many women over the years.
Mortez's fans criticized Beckham and Lexi Wood for kissing and snuggling up to each other at a Hollywood tattoo parlor only weeks after his split from Moretz.
Moretz's supporters labeled Wood a "relationship wrecker," accusing her of breaking their relationship.
After a few weeks of engaging with Woods, Beckham found a musician partner, Lexy Panterra.
He and his partner, Panterra, shared several shots of one another on Instagram.
Soon, they broke up, and Beckham moved on with model Alex Lee Aillon.
Chloë Grace Moretz Shades Ex Boyfriend Brooklyn Beckham?
The Shadow In The Cloud actress thinks that PDA is too much information to ruin your personal space.
In an interview with The Sunday Times, she explained, she saw pictures of Beckham and Wood through Twitter. 
"I get tagged. And every major publication is verified. So anytime the publications post something about a certain relationship, it pops up on my phone, which is how I find out about 90 percent of things," Moretz added.
After the incident, Moretz shared that she listened to Cardi B's 'Be Careful,' which addresses Cardi's finance's infidelity. She seemed to post this as a satire to Beckham. 
Mortez allegedly threw shade at Beckham by liking a picture of a fan account of her captioning, 'Greetings To Brooklyn Beckham.'
Meanwhile, Beckham chimed in on the topic by liking another meme depicting the incident rather than posting his own.
He liked a picture of him crying as a young boy next to his mother that said 'Chloe's fans attacking Brooklyn Beckham.'
Despite all the drama, the Beckham seems to have found a permanent partner in Nicola Peltz.
He started dating the model in 2019, made it official in January 2020, and got engaged in July.