Charlie Brooker's Wife Konnie Huq Gave Him an Ultimatum as He Didn't Want Kids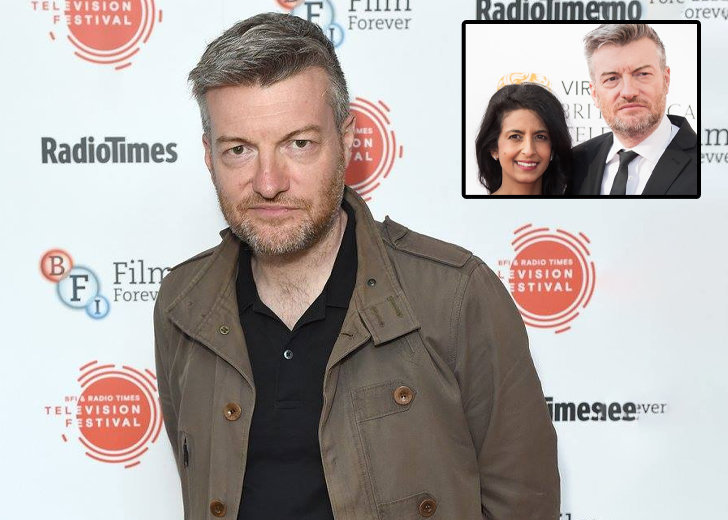 Charlie Brooker and his wife, Konnie Huq, have been a happily married couple since they tied the knot in July 2010.
Together, the couple has two kids from their marriage, and both of them are sons.
They had their first child, Covey Brooker Huq, in March 2012, followed by their second baby, Huxley Brooker Huq, in February 2014.
However, there was a phase in their relationship when Brooker, a television presenter, didn't want kids.
In contrast, his wife, Huq, also a television presenter, always wanted three children from her marriage.
Charlie Brooker's Wife Gave Him an Ultimatum
During an interview with Rob Beckett and Josh Widdicombe on the Lockdown Parenting Hell podcast in 2020, Brooker's longtime partner revealed that fact, saying she always wanted to be a mom.
"I always thought I'd have three. Two was just a nuclear family, so boring," she added.

Charlie Brooker with his wife Konnie Huq. (Photo: Twitter)
She continued to explain, "Three is a dynasty, three is like a team and then I had two and I was like 'no way!' Two is company and three's a crowd."
And while she had such plans about her future family in the late 2000s, she recalled Brooker, her then-boyfriend, had no plans on having children.
After quickly realizing his intentions, she informed him that it was a deal-breaker. In addition, she told him that she would not marry him if they did not have kids in the future.
That said, Brooker's wife also defended him by saying that he was unsure about having kids because he had not met the right person to make him realize the value of a family with kids.
"And so... he obviously saw the gene pool that I possessed and thought 'it wouldn't be right!' I dunno, he just sort of changed his mind," she further recalled.
Charlie Brooker and Konnie Huq Are Together since 2009
Moving onto their relationship, Brooker and Huq first met during an episode of his show, Screenwipe, in 2009.
Even though they started as friends, they soon fell in love and relished a relationship. Nine months later, in June 2010, they got engaged.
And it was allegedly during that dating phase the couple had sorted out their opinions about children.
In the previous podcast, Brooker's spouse even revealed the quality that drew her close to her husband. She stated that one thing that attracted her to him was his skills in "having a telephone conversation."
"I always say I am really analog and Charlie is really digital. My oldest is digital and my youngest is analog," she added.
Fast forward to the present and Brooker and his family are still going strong.
Even though the lockdown and pandemic were quite hard, they reportedly took it quite seriously in their house and hardly went out at all.
Happy Mother's Day all. So glad my youngest appreciates I've "tried so hard"🤣... wonder if he'll get round to making that present!!...
Have a great Sunday mums!😍Xx pic.twitter.com/BgZQfoKpiC — Konnie Huq (@Konnie_Huq) March 14, 2021
According to Huq, the long-serving host of Blue Peter, everyone at her home was disciplined.
She even shared an instance with her son when she asked him to go to the pack after the lockdown. In response, she said her son asked her if it was so important to go out.
Well, that sums up how the family has been living together over the years.