Catfish Cooley Genuinely Backs Wife Munica's Career Choices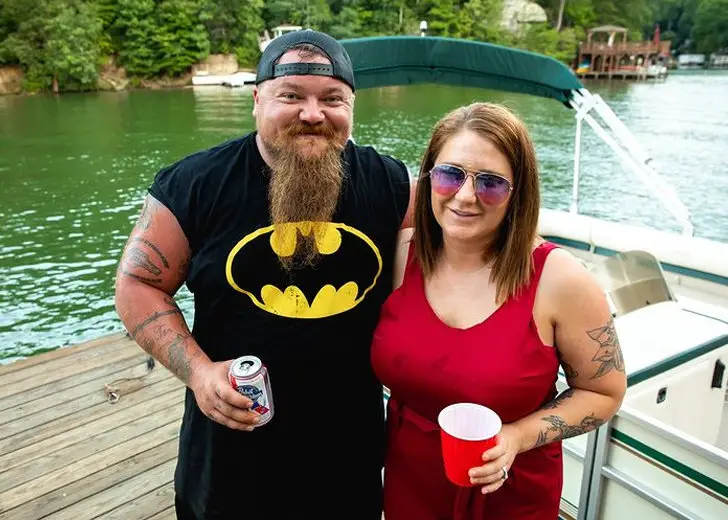 American comedian Catfish Cooley found widespread fame after his appearance in the television series  Tosh during season 7's episode (27) of his name in 2015.  
Later, he became viral on his Youtube channel, putting on his classic redneck character. 
From posting comedy crazy food reviews and other comedy videos to venturing out as a rapper, Catfish has done it all. 
Read the full article to know about the frequently asked questions about Catfish Cooley's wife, career, age, and family.
How old is Catfish Cooley?
Born on 2 May 1990 (age 33) in Louisiana as David Cooley, Catfish Cooley has two children, Zooey and Tyler, from his Onlyfans model and podcast host wife Munica Cooley
Tyler was born when Catfish was 23 years old. The family currently resides in Vidor, Texas. 
Cooley also has two children from his first wife, who got into a relationship with Munica's ex. 
Cooley was brought up in a family of southern poor farmers, who proudly describe themselves as "rednecks." His father Charles Cooley is a construction company owner. 
Catfish's biological mother's name hasn't been revealed yet. Lawanda Cooley is his stepmother. 
Who is Catfish Cooley?
A Pitkin High School graduate Cooley is an American comedian and social media personality recognized for his character 'Redneck' that he uses at comedy shows. 
His fans love him for his harsh tone and amazing sense of humor. 
He started his online career in 2017 through YouTube. There he posts comic videos on topics mostly about his daily life and experiences. 
The videos he made garnered much love from the viewers for his unique commenting style. 
Cooley has a lot of interesting comedy sketches where he shows off his character, Redneck. 
In addition, the famous comedian Catfish Cooley supports his wife in every way.
He might sprinkle his sarcasm on others, but he sure is serious about his wife's career choices.
How Catfish Cooley Supports His Wife
Catfish's wife is 34-year-old OnlyFans model Munica Cooley. She was born in 1989 in Louisiana. 
Catfish seems cool with his partner's career, as he constantly posts pictures of her. 
His captions on his wife's posts are motivational, and he often gives shout-outs to his wife's work.
On 21 May 2020, Catfish took to Instagram to mention how proud he was of her.
The post featured Munica looking poised and elegant while flaunting her tattoos.
In the caption, the comedian shared he was proud of her. 
He also explained how important his spouse is to him in a Facebook post. He mentioned marrying her was the best decision of his life. 
He talks highly about her and her career, and explains that she has been with him through thick and thin.
Once he shared a picture of his partner looking at her laptop, to which he said he loves to see his partner getting into business mode.  
He wishes her on her birthday, never forgets their anniversary, and always spreads positive words about her. 
Catfish Cooley and His Family
The couple has been married for seven years and shares four kids.
For their 7th anniversary, he had shared a picture where he and Munica were all smiles.
Catfish shared a picture in February 2020, where the caption stated that on this date, six years back, he had asked Munica to become his girlfriend. 
In a Facebook post, Catfish wished his daughter a happy birthday and explained that she was the miniature version of him.
Likewise, Munica uploaded a picture of their eldest child, her stepson Troy, on Facebook on his birthday. 

Catfish Cooley And Wife Munica Cooley with their kids (Source: Munica Cooley's Instagram)
Her caption expressed that he was very sweet and well-mannered, and she was proud to be his stepmom.
Catfish also posted a picture of his stepson Tyler wishing him his birthday.
His caption radiated love and affection for Tyler.
The Cooley family looks like a close-knitted bunch, as they always seem to support and celebrate one another. 
What is Catfish Cooley's Net Worth?
Cooley has an estimated net worth of $8 million. He stands at the height of 5 feet and 9 inches.