Carrie Preston Once Had a Talent Crush on Her Husband Michael Emerson - Inside Her Personal Life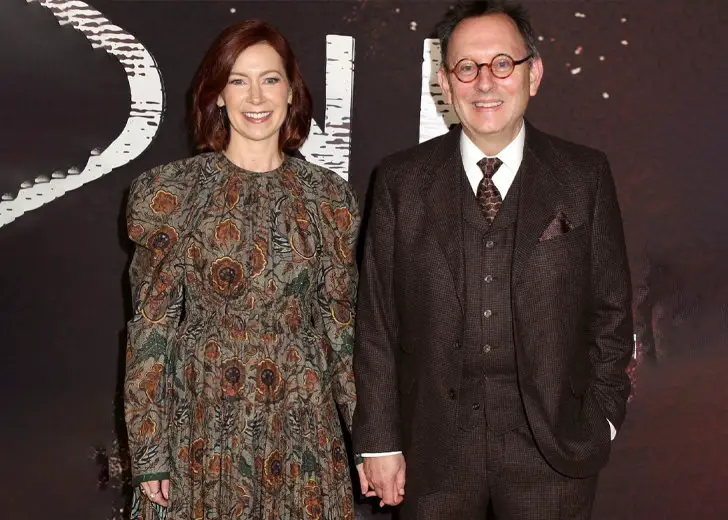 Carrie Preston is a talented actress, no doubt! But the fact that she too had a talent crush on her husband, Michael Emerson, when she was just getting to know him, is downright adorable. 
Preston and her husband, Michael Emerson, have been married since 1998 and, as of this writing, are still going strong. [Touches wood]
Carrie Preston Met Husband at Alabama Shakespeare Festival
The first time Preston met the man who would be her husband, he was still in school. He was studying for a master's degree at the Alabama School of Fine Arts. 

Carrie Preston with her husband, Michael Emerson (Source: Instagram)
Then, Preston was based in New York, but she was in town for the Alabama Shakespeare Festival in Montgomery. 
She first saw him performing several roles in A Christmas Carol. 
However, as revealed in an interview with Entertainment Weekly (via CheatSheet), the two actually met on the sets of Hamlet. 
Emerson was playing the titular character's childhood friend, Guildenstern, while Preston was acting as Ophelia, and he sent her a vase of fresh flowers and a basket of peaches from his peach tree.
Michael Emerson Was Carrie Preston's 'Talent Crush'
In another interaction with People, Preston confessed that she had a crush on Emerson from the get-to — a talent crush, to be specific. 
"Within a month I was calling my mom saying, 'I met the man I'm going to marry,'" she recalled. 
Thankfully, the feeling was mutual. Once love found its way, the distance could not keep them apart. They commuted between New York and Alabama as they dated for the next four years. 
They finally got married at a theatre in her native Macon, Ga. in 1998, followed by a move to New York City, which Emerson called "Home with a capital H."
In the over two decades that they've been married, they have not had any children of their own, but in 2010 the couple adopted a poodle-Maltese mix, Chumley, who they treat like their only "child."
Carrie Preston & Husband Have Mutual Respect for Acting
Over the span of their successful TV careers, Preston and her spouse have shared the screen on more than one occasion. 
For instance, Preston guest-starred in an episode of Lost and portrayed Emerson's character's ex-fiance in Person of Interest. 
They also came together for other projects like Straight-Jacket in 2004, Ready? Ok! in 2008 and Claws in 2018.
Needless to say, Preston is a fan of her partner and recognizes him as a talented actor. She has gone on record to admit that Emerson was so good at what he did that she got "lost in his stories." 
The feeling here is mutual as well, as Emerson has also gone on record to dub his wife as a "comic genius." 
Between the two of them, the duo has ten prestigious accolades to their name for their contribution to the art of acting.
The husband had five Primetime Emmy Award nominations with two in the bag, and the wife bagged an Emmy Award in 2013 for Outstanding Guest Actress in a Drama Series.