Carole King's Children Are Carrying On Her Musical Legacy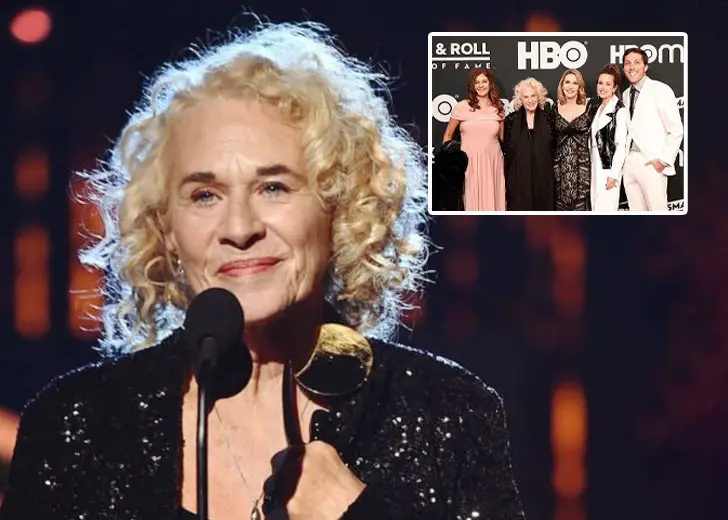 Singer-songwriter Carole King had a successful career that spanned multiple decades.
She is considered one of the most influential musicians of all time and remains a much-loved icon.
Throughout her career, King released dozens of hit songs, many of which were in collaboration with her first husband, famed lyricist Gerry Goffin.
Together, King and Goffin had two children together — daughter Louise Goffin and daughter Sherry Goffin — both of whom have followed in their parents' footsteps.
Aside from the aforementioned two, King has two other children from her second marriage. And while they aren't exactly musicians like her, they have been keeping her creative legacy alive.
They have also been credited for performing in a few productions.
Carole King Has Four Children
King was first married to Goffin. The duo met at Queens College when she was just 16 and became songwriting partners.
Goffin was an aspiring lyricist at the time.
The pair got married in 1959 and welcomed their first child together, daughter Louise, on March 23, 1960.
Two years later, King gave birth to her daughter Sherry on March 3, 1962.
King and Goffin ended their relationship in 1969, and she moved on with Charles Larkey not long after.
Larkey, who played bass in many of King's songs, tied the knot with the 'You've Got a Friend' hitmaker in 1970.
A year later, King gave birth to daughter Molly Larkey on December 31, 1971. She welcomed her fourth child, son Levi Larkey, on April 23, 1974.
Who Are Carole King's Children?
Many of King's children have made a name for themselves. Her oldest daughter Louise is a singer who, like her mom, started her musical career at a young age.
Louise debuted her first album titled Kid Blue in 1976 when she was just 16 years old. Since then, she has released several more songs and albums.
She and her mother also recorded a new version of 'Where You Lead' together, and it became the theme song for Gilmore Girls after they changed the original lyrics to reflect their mother-daughter bond.
Similar to Louise, Sherry is also a singer and songwriter. She has contributed to soundtracks of productions such as Basic Training (1985), The Care Bears Movie (1985), and Shackin' Up (1984).
Sherry has also appeared as an actress in Chicken Soup with Rice (1975) and Really Rosie (1975).

Carole King with her daughter Sherry. (Source: Instagram)
Unlike King's two older daughters, Molly hasn't tried her hands at music. On her Instagram page, she describes herself as an artist, writer, and organizer.
Molly is also the creator of People's Pottery Project, a program where formerly incarcerated women learn how to work with ceramics, earn a living wage, and get social support.
As for King's only son, Levi, he has opted to stay out of the spotlight and very little is known about him.
According to his IMDb page, Levi performed the song 'Home is in You Heart' for The Care Bears Movie in 1985. He has also worked as a boom operator in the 2007 movie 44.