Carlos Sainz and Girlfriend Isa Hernaez Value Privacy in Their Relationship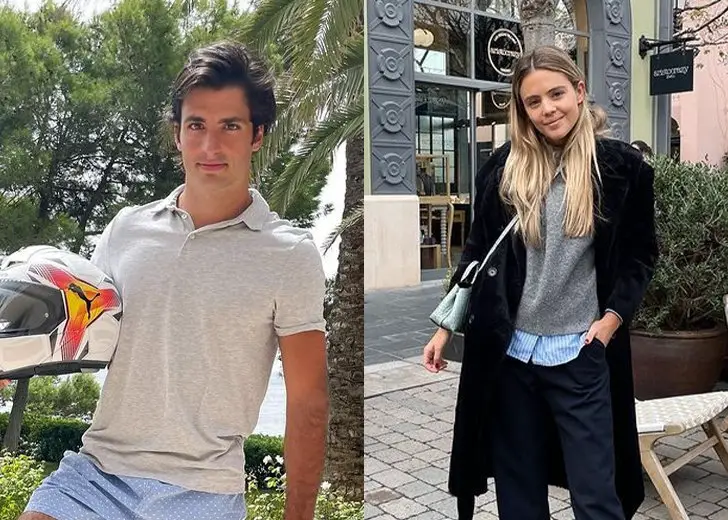 Carlos Sainz has a great reputation in the F1 world, having entered the top-tier four-wheel racing scene in 2013. Since then, he has generated a lot of queries, both in the professional facet of things and personal.
But, unlike his professional life, his private life is not that well-known. He never really talks about his romantic relationships, and people know very little about his dating endeavors.
The Formula One driver has been going out with girlfriend Isa Hernaez, a fashion journalist, for a while now. And they prefer to keep their romance on the down-low.
Carlos Sainz Maintains a Discreet Relationship with Girlfriend
Sainz and Hernaez (full name - Isabel Hernaez Fuster) first started dating rumors back in 2017. Their first spotting together was during a vacation in Formentera, where they looked affectionate towards one another.
The relationship seems to have taken off right around that time, and they have now been together for over four years.
And they do not hide their relationship. Sainz and Hernaez have attended many red carpet events together in the past along with other public appearances, including presence in his races.
They just do not talk about their romance much.
And in the off chance that one of them has spoken about the relationship, it has been to state that they like to keep their work as the primary focus.
"In the end we like that the relationship is in the background and that everyone talks about their work," Hernaez said in her interview with Vanitatis in May 2021. "for us [sic] it is important to maintain a certain privacy. I don't like to talk about my relationship."
Sainz's girlfriend, nevertheless, did not mind that everyone knew her now. When asked if she liked having lost her anonymity, she said she didn't mind that.
"Actually, I get along fine. It doesn't bother me at all," said Hernaez. She also emphasized that the center of her attention was her work regardless of people knowing her as Sainz's girlfriend.
Isa Hernaez Is Close to Carlos Sainz's Family
Hernaez is in the fashion industry. She works in the communication department of Scalpers, a fashion brand, and handles public relations there.
Her job includes showing off her brand's products to clients and journalists.
During the same interview, she was asked if she also offered style advice to Sainz's sisters, Blanca and Ana Sainz.

Carlos Sainz's girlfriend Isa Hernaez with his sister Blanca Sainz. (Photo: Isa Hernaez/Instagram)
Hernaez answered by first revealing that she maintained a great relationship with his sisters and the family by extension.
But she did not think his sisters needed any advice from her, as they had their own styles.
She has also been reported to spend vacations with her boyfriend's family every summer.
The couple has been together for almost half a decade, and it might not be too wrong to assume that they have maintained a long-distance relationship for the most part.
Sainz is always busy with his F1 events and races and practice sessions in-between. His girlfriend, too, is focused on her company.
But this distance did not mean they had not thought about starting a family of their own.
"Of course," she responded when asked if she saw herself having a family in the future. However, she also alluded to both their busy schedules. "[but] there's no time for that."