Buster Posey Puts His Family First as He Retires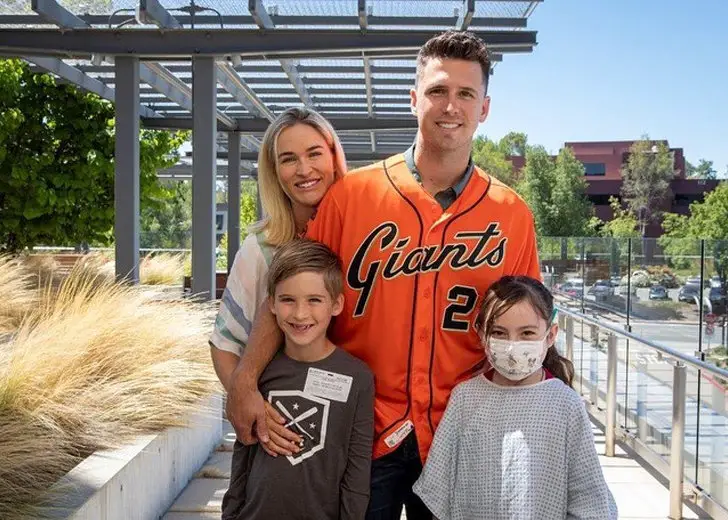 Gerald Dempsey Posey III, or as he is more popularly known, Buster Posey, announced his retirement from baseball in the latter months of 2021 after a 12-year career in Major League Baseball.
The athlete who opted out of the game at the age of 34 is a parent to two sets of twins alongside his high school sweetheart of a wife, Kristen Posey. 
The family he's built with his darling wife is one of the major reasons why he decided to leave his MLB days behind. 
As per ESPN, Buster, who got the nickname from his father, cited his desire to spend more time with his family combined with the physical toll of playing catcher as the reason for his retirement. 

Buster Posey with his wife Kristen and children Lee & Addison (Source: Instagram)
"I want to do more stuff from February to November with family," he said in a subsequent press conference.
Apart from his love for his wife and children, there was the unavoidable plight of his aging body that made him choose retirement. 
"It's hard to enjoy it as much when there is physical pain that you're dealing with," he professed. "It was getting to the point that things that I was enjoying were not as joyful anymore."
Family Always Came First
Physical pain aside, this is not the first time Buster has chosen family over his love for baseball. 
Back in 2020, the Giants star catcher decided to opt out of the 2020 season out of health concerns for his newborn adopted twin daughters. 
As per reports from The Detroit News, the twins were born eight weeks prematurely. While both Ada and Livvi were born healthy, their premature birth meant that they would have weakened immune systems for the first few months. 
In a time when the global pandemic was rearing its ugly fangs, that was a serious concern. The twins had to be kept in neonatal intensive care. 
"From a baseball standpoint, it was a tough decision," Buster confessed. "From a family standpoint and feeling like I'm making a decision to protect our children, I think it was relatively easy."
Thankfully, the twins recovered well. 
Buster Posey's Wife Birthed Twins
The first time Buster became a father was back in August 2011 when he and his wife welcomed children Lee Dempsey Posey & Addison Lynn Posey; and yes, they were twins too. 
According to HuffPost, Lee, born 5 pounds and 12 ounces, was born two minutes before his sister Addison, making him the elder sibling. 
Coincidentally, Buster was not playing baseball back then either. However, then, it was because he'd suffered a season-ending injury on May 25, 2011.
Both Buster and his wife hail from Leesburg, Georgia. In fact, they met while taking the SATs in high school in Leesburg.
In 2009, the couple would get married in the same town. However, after becoming parents, the couple decided to raise their children in the Bay Area and make it their home.