A Look at Brittany Snow's Wedding to Tyler Stanaland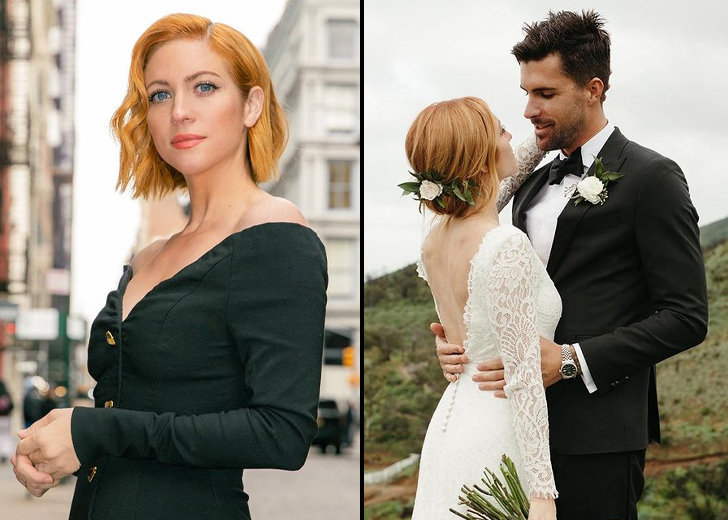 Brittany Snow, the star of the Pitch Perfect franchise, married her husband, Tyler Stanaland, in 2020.
Their wedding was far from perfect.
But all the little imperfections made the ceremony even more special for the couple.
They now have many little details to remember from the day.
Brittany Snow's Wedding Was Filled with Happy Accidents
Snow and Stanaland's wedding day was in early March 2020. The pandemic closures didn't affect their wedding, but many other things did.
On the day, it was raining at Cielo Farms, Malibu, where the ceremony was held. That morning's weather forecast had turned out to be accurate.
However, as a last-minute addition to their wedding, they ordered tents for the rain, which wasn't cheap.
It had rained up until the start of the ceremony, and they did not want the guests to be cold under the rain.

Brittany Snow with her husband Tyler Stanaland on their wedding day. (Photo: Brittany Snow/Instagram)
Along with tents, they also spent a decent amount on mood lighting so the guests wouldn't feel like they were sitting under something.
And this was the first "happy accident," as it worked out perfectly.
Another little unfortunate incident happened when she had her lipstick on her teeth for their first photoshoot. She had done her makeup herself for the day.
As the flower girl for their special day, Snow and Stanaland chose their special family member, Billie Jean, their dog. She wore a flower collar that matched Snow's bouquet.
And her white bouquet, comprising white roses and magnolias, complimented her wedding dress. She wore a custom Jonathan Simkhai wedding gown that reflected her feelings for the day.
It was a mermaid gown — a lace dress with Simkhai's signature, and it was a timeless, classic dress that was how it looked - effortless.
She was walked down the aisle by her father. He, who Snow also called her best friend, was proud and happy when he gave her away to Stanaland.
As for the groom, he wore a custom-tailored black Tommy Hilfiger tuxedo, which he paired with leather High Top Converse sneakers.
In addition, he wore his father's vintage Rolex for "something old."
The couple wrote their vows themselves. "They each highlighted the moment we knew we fell in love, along with qualities and stories we appreciated about the other," Snow told The Knot.
Saying his vows to his wife was Stanaland's favorite moment in the entire ceremony.
Everyone was dancing and having a good time after vow recitals. They did not want that to stop.
So, they cut the cake in secret.
Then came their reception. And for this, Snow brought out her second dress. She donned an off-shoulder corset by Galia Lahav for the occasion.
Other than this, they also respected his Hawaiian roots by wearing traditional Hawaiian leis at the rehearsal dinner.
Their ceremony also mirrored their style. The furniture at the celebration, the color choices, and their choice for the getaway car all showed their love for everything vintage and classic.
How Brittany Snow and Tyler Stanaland Got Together
Snow and Stanaland got together in what she described as "the most millennial way" possible. They both thought they would never get one another in the beginning.
Stanaland would watch Pitch Perfect but think of his now-wife as his "unattainable crush forever." Snow, too, used to think she would never meet him.
However, the pair, who knew each other through mutual friends, eventually started talking through Instagram.
Stanaland used a dad joke as a pickup line over text, and even though it was admittedly bad, her years-long crush on him overrode that.
After this, they fell in love over the next year in 2018 and got engaged in February 2019.
The rest is, as they say, history.