How Brendan Gleeson Influenced Son Domhnall's Acting Career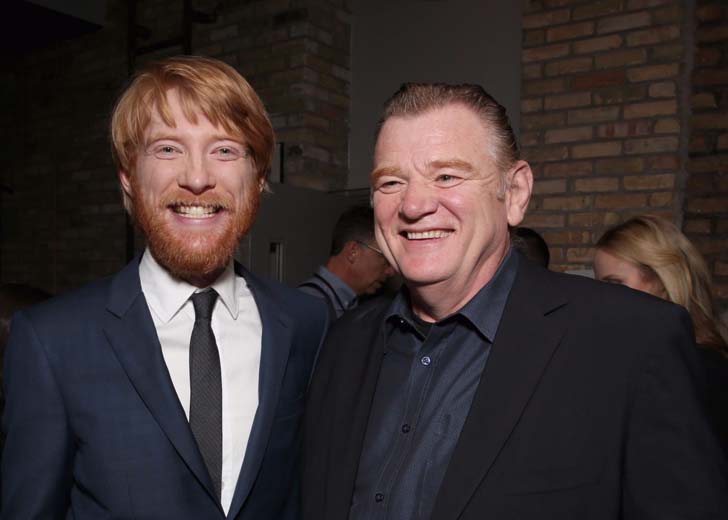 Brendan Gleeson is an actor worthy of the title of Hollywood's living legend.
The Irish actor was a teacher for many years before becoming a professional actor. He took the leap of faith when he was 34. Within one year of changing his career, he shone in Irish films such as I went Down and The General.
Then the Hollywood offers started to roll in. However, the actor said, "It never crossed my mind I could be a movie star."
One of Gleeson's major roles is in the Harry Potter franchise as Alastor "Mad-Eye" Moody. And he has also collaborated with acclaimed filmmakers such as Martin McDonagh, Michael McDonagh, and Steven Spielberg.
However, in 2018 the legend said to The Sun that he is no longer the big shot at home in reference to his two actor sons.
Brendan Gleeson's Influence on His Son's Career
Gleeson has four sons with his wife, Mary Weldon; Domhnall, Fergus, Brian, and Rory.
Inspiring his boys was a major reason Gleeson portrayed the role of Mad-Eye Moody. "They were the reason I did it," said the actor.
Two of his boys, Domhnal and Brian, followed in his footsteps be become an actor. Both his sons are already big names now.
He had sound advice for his two sons. The actor said, "Make your own work. Hire a room, round up 30 people, at lunchtime or whatever, and put on a play." 
"Being at other people's behest is the worst part of this job, so my advice would be to actually practice your craft: just do it," added the Harry Potter Star.
Gleeson deeply impacted his eldest son as an exceptional actor and a supportive parent. Domhnall told The Sun, "I'm lucky that my father is a complicated, amazing man."
"He's just the best dad in the world, so all of my memories of being a child are closely wound up with him," said the Star Wars actor about his father. 
Domhnal has worked alongside his father in Harry Potter as Bill Weasley, and he's also appeared in another epic franchise Star Wars as General Hux.
On the other hand, Brian is known for his roles in Snow White and the Huntsman, Phantom Thread, and Peaky Blinders.
The two Gleeson brothers recently worked together on their 2021 sitcom, Frank of Ireland, written by Domhnall.

Brendan Gleeson's actor sons Domhnall and Brian. (Source: Twitter)
Even though Domhnall's established as an actor, he said he's more drawn to writing and directing.  
It's not only the two brothers that have worked together. Gleeson has worked with all four of his sons on one project.
Brendan Gleeson Worked Alongside His Four Sons 
Gleeson's directorial debut featured all four of his sons. As a result, the short film Psychic was a family affair.
A story of a charismatic psychic (Brendan Gleeson) who is forced out of retirement by his manipulative sons (played by real-life sons Domhnall and Brian) and taken on the road. 

Brendan Gleeson performing 'A Pint Of Plain is Your Only Man' with his son Fergus on 'The Late Late Show.' (Source: Youtube)
Brendan's writer son Rory penned the story while his other son Fergus produced the music for the film.
This wasn't the first time Gleeson worked with his sons. In 2014, he appeared on stage opposite Domhnall and Brian in a production of The Walworth Farce.
The Guard actor enjoyed working with his sons. "I like working with them. It kind of keeps me on my toes a bit," said Gleeson.
And it won't be the last time they work together.