Andi Dorfman Opens Up About Relationship with New Boyfriend Blaine Hart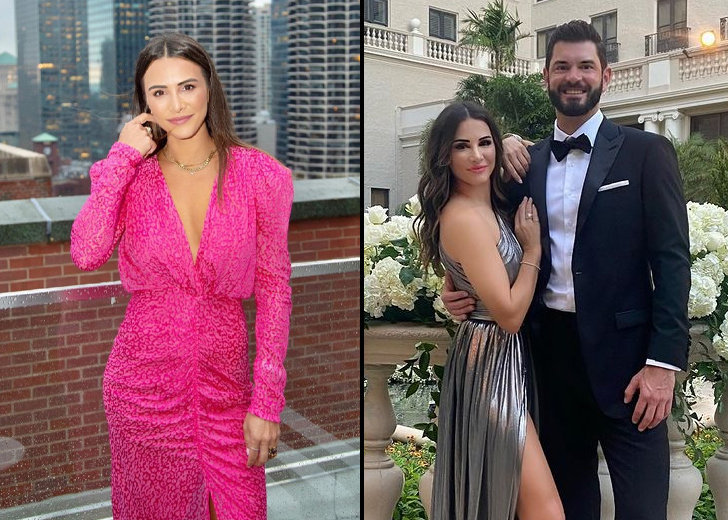 Andi Dorfman began 2022 with a big revelation for her fans.
After a November full of secrecy and teasing, Dorfman finally revealed her new boyfriend at the start of the year.
But, as it was later revealed, her new boyfriend, Blaine Hart, was not a completely new introduction in her life.
Andi Dorfman and New Boyfriend Have College Ties
Dorfman first teased her current relationship on November 10, 2021. She uploaded a cute selfie of a hug with her man.
Hart was wearing an Atlanta Braves baseball cap, but his face was turned the other way.
People started with their deductions on the post's comment section. Someone guessed it was model Robby Hayes based on her stories that day.
Another pitched in with their guess, asking if it was Blake Moynes she was hugging.
Unfortunately, they had to wait for over a month for the answer.
A source close to her at the time revealed to E! News that Dorfman had been dating her boyfriend for "a few months."
The insider further claimed that they were perfect for each other and that she was the happiest she had ever been with him.
However, she preferred to keep their dating status private for a while. Dorfman changed her mind as 2021 came to a close.
On December 31, she finally posted a picture where Hart's face was somewhat visible.
"By far my favorite thing from 2021," Dorfman captioned the picture. Hart was leaning onto Dorfman for a kiss as he pulled her closer. Then, the next day, she did the full face reveal.
On January 1, 2022, she posted another photo with Hart.
In the caption, she expressed her hunch about 2022, potentially being the best year yet for her. Maybe she was referring to her newfound love and dating life.

Andi Dorfman rekindled her connection with her new boyfriend, Blaine Hart, after 15 years. (Photo: Instagram)
After this, E! News again revealed a few inside details about the couple. They were not strangers when they met in mid-2021.
They had initially got to know each other in college in South Carolina. It isn't clear whether they were dating at the time, but they went their separate ways.
Dorfman then reconnected with her current boyfriend in the summer of 2021, when they were both in Italy. Things took off from there, and they are now smitten with one another.
Andi Dorfman on Her Relationship with Blaine Hart
In an interview with the US Weekly at Sports Illustrated The Party x Palm Tree Crew, Dorfman became candid about her relationship with her new beau. 
She shared she went public with their relationship because she had finally met someone "that I wanted everyone to know about." 
The reality star noted it could sound cliché, but she wanted everyone to know how happy she was in love.
Admittedly, the positive response from her fans and followers alike only encouraged her to share more of her relationship in public. 
In the same interview, Dorfman also touched down on her engagement plans with her boyfriend. She promised she would let the media know if she ever got engaged, albeit only after telling her parents.   
Andi Dorfman's Dating History
Being a Bachelorette alum, Dorfman's dating history has been well-documented. She was first linked with former The Bachelor contestant Juan Pablo Galavis in 2014.
The reality star was a contestant in his season of The Bachelor. She eventually dropped out of the competition.
That same year, she got her second chance at love on The Bachelorette. Dorfman was engaged to Josh Murray, the winner of her season of the show.
Even though their time together looked perfect on camera, it was only after the show ended that cracks started to appear in their relationship.
Following her Fantasy Suite date with Nick Viall, the runner-up of her Bachelorette season, they broke off their engagement in January 2015.
In her memoir It's Not OK, Dorfman claimed that Murray had been emotionally abusive to her. She even described the relationship as the worst she ever had.
She was also linked with Viall after the duo were seen running together in LA in 2020.
However, he clarified those rumors as soon as they appeared, claiming they were just friends and not boyfriend and girlfriend.
As for now, after being not-so-successful at finding love on TV, Dorfman seems to have found her man outside the world of showbiz.
In fact, her boyfriend isn't bothered by her history with the franchise. "He did not watch her on The Bachelorette," the insider source told E! News.