Is Amy Freeze Married? About the Meteorologist's Family Life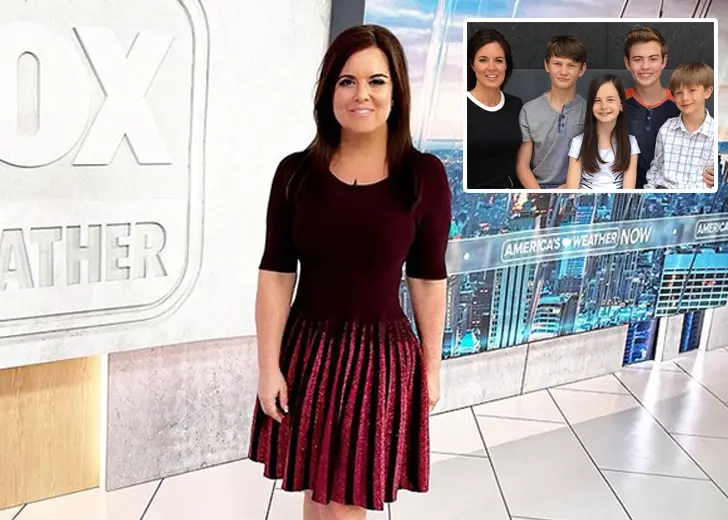 After being married to Gary Arbuckle for over twenty years, Amy Freeze and her husband divorced in 2016.
The divorced couple share their bond with Tyler, Jared, Kate, and William — their four children.
Is Amy Freeze Separated from Her Kids?
It is currently unknown why Freeze and her former husband Arbuckle split.
The reason for their breakup was not made public by the couple. But is Freeze separated from her kids after the husband and wife split?
The answer to that question is, no. 
The two are still happily co-parenting all their children, despite going their separate ways.

Amy Freeze With Her Children (Source: Freeze's Instagram)
Is Amy Freeze Married?
Freeze and Arbuckle were married as husband and wife from 1994 to 2016.
The two met during their time in college at Brigham Young University. Freeze was a cheerleader and Arbuckle was the university mascot, Cosmo.
The two were apparently cheerleading partners and got married after falling for each other.
After their relationship fell apart, the couple decided to continue with their own lives. Arbuckle has since moved on and is now married to Andrea Arbuckle.
As for Freeze, it is not quite clear if the Fox Weather reporter has a husband or is just dating.
Her Instagram pictures show her with a new man. But, like most famous people, Freeze has decided to keep her man's identity a secret.
All we know about the man she is with is that he has four kids, just like Amy does.
Here in this Instagram post by Freeze, we see her hinting at her relationship with the mystery man's reflection on her glasses.
Freeze is seen with a big smile, looking forward to spending the weekend with him.
In another post from the meteorologist's Instagram account, we see the couple with all their eight kids celebrating father's day together.
"All the reasons" reads the post caption, alluding to her strong relationship with her man and his children.
More On Amy Freeze and Gary Arbuckle
Freeze began working for Fox Weather in 2021 as an anchor.
Freeze has won multiple prizes for her work on television, including Emmys for Best Weathercaster and Outstanding Host, as well as for her documentary Surviving Severe Weather in 2007.
She was the 11th woman in the world to receive the American Meteorological Society's (AMS) distinguished Certified Broadcast Meteorologist accreditation.
 Arbuckle is a chiropractor who obtained his Bachelor of Science degree in Human Biology in 1995 after completing his pre-chiropractic studies at Brigham Young University. 
He went to Western States Chiropractic College in Portland, Oregon, where he earned his DC degree in 1998.
Arbuckle married his beloved spouse, Andrea, in 2017. They have four sons and three daughters together.
Although Freeze's fans and well-wishers want to know who her husband is and whether she married again, they have not yet received a final answer.
We suppose we will have to wait until there is any official news from Freeze herself regarding the topic.