Is Alpharad Married to a Wife now after Divorce with Ex Wife and Bisexuality reveal?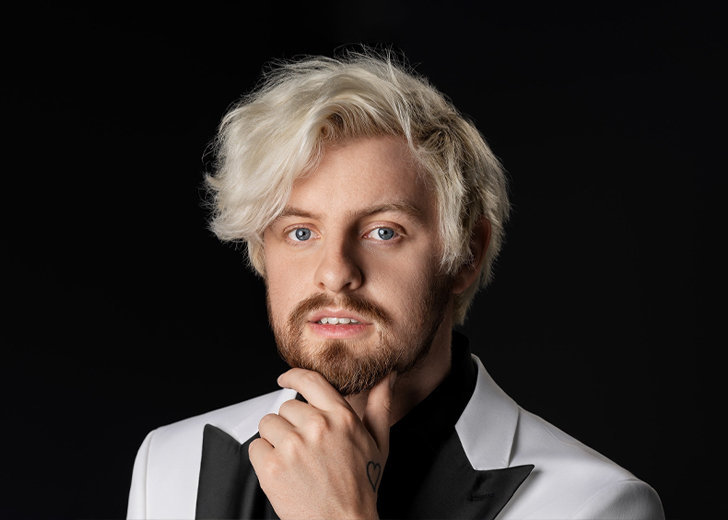 American Youtuber, video games tournament organizer, and esports personality Jacon Rabon IV, who is known by his online pseudonym Alpharad for his Super Smash Bros gaming videos, surprised the public when he came out as bisexual in June 2020. He was married to his wife Fiorella Zoll when he made the revelation.
The Norman native has never been too open about his personal life. But in the following years of his sexuality revelation, his marriage went downhill. They eventually separated and divorced legally.
Since announcing their separation, he has revealed a few more tidbits about his sexuality.
Is Alpharad married to a wife now after the divorce?
Surely, netizens online have been curious about Alpharad's personal life since his marriage with his former wife Fiorella Zoll ended.
As of writing, there has been no news of him getting married to a woman or a man or of him having had children. He usually posts about his games, new projects, public events, and gaming on his social media, such as Youtube and Instagram. He has not been updating about his personal life on social media since he separated from his ex-wife. Previously, he used to share about Fio a lot. 
Fio and I ordered room service and it was $50. I had $70 in cash, so I thought I would give it all to the kind man for delivering it, thus giving him a $20 tip...

...

The food was actually charged to my room.

...

I accidentally gave this man a $70 tip. — jacob alpharad (@Alpharad) November 14, 2018
How did Alpharad's relationship with his ex-wife Fiorella Zoll end in a divorce?
Alpharad, who stands at 6 feet and 2 inches, started dating Zoll in 2014. After dating for four years, they got married in 2018.
Their wedding was held on 3 November 2018. Alpharad tweeted throughout the day, keeping fans posted about how the day was going and how he felt about the whole thing.

Alpharad with his ex-wife, Fiorella Zoll, on their wedding day in November 2018. (Photo: Sugar Sugar/Instagram)
Alpharad and Zoll's wedding video showed the couple was thrilled — the YouTuber even broke down into tears after kissing his then-bride for the first time at the altar.
After their Oklahoma wedding, also their home state, they moved to Los Angeles. Before building a life together, they lived with a friend and frequent collaborator, JoSniffy.
As is his tendency, the YouTuber didn't really talk about his married life in his content. Things weren't that great in the background, though.
In a surprise announcement on 20 October 2021, Alpharad announced he was separated from his wife.
"Fio and I are no longer together and haven't been for a good while," he wrote at the start of his Twitter announcement. He said he had been waiting to get emotionally stable before sharing the news with the world.
Further, he added he had "an endless amount of respect and admiration for her" and that she had supported him through their seven years together.
"I'd hope nothing short of the best for her in the future," he wrote, ending the part of the announcement where he discussed their separation and requested everyone to respect their privacy. "It wasn't an easy nor painless decision for anyone."
Fio hasn't spoken about the divorce yet. But there are some speculations over the internet that his coming out led to their divorce. 
What is Alpharad's sexuality?
Alpharad is a bisexual who leans into the Aro spectrum— an umbrella word used for people who don't usually experience romantic attraction.
On 15 June 2020, while Alpharad was still married to Zoll, he revealed in a YouTube video that he was bisexual. He made the revelation during a conversation about Pride month and how he acted, unlike how he was in real life.
He admitted he acted "hyper aggressive" about his sexuality and appeared straight, but in reality, he was "very confident and bi."
However, he also confessed to not wanting to make a big statement about his sexuality and joked about coming out in a Super Mario gameplay.
Then, on a December 2021 episode of How Did We Get Here? podcast, he discussed his ADHD diagnosis and how he fell somewhere in the asexual, aromantic spectrum. He said,
I definitely feel I'm on the A spectrum, definitely Arrow...because, like I can like it, I can enjoy it, but I don't find anyone sexually attractive. It's just kind of like I can see that they're conventionally attractive, but for me, it's just like I don't [expletive] care like Joe, and I talked about it in like an episode...and I describe myself as like if it feels like it makes a good story I'm down like I would describe myself as bit sexual and I think that makes a lot of sense. If it makes for a good story, I'm down.
However, some have argued that he is only pretending his sexuality as bi for seeking attention. Furthermore, they claim that he previously showed zero signs of being a part of the LFBTIQ+ community. 
What is Alpharad's age?
As of writing, Alpharad's age is 27. He was born on 19 December 1995 in Norman, Oklahoma, U.S. 
What is Alpharad's net worth?
Alpharad's estimated net worth is calculated to be in the range of $1.5 million to $5 million. 
What is Alpharad's zodiac sign?
Capricorn, the zodiac sign symbolized by the sea goat, is known for its practicality, discipline, and ambition. And when it comes to the Youtuber and gamer Alphard, the Capricorn zodiac sign would suggest that he is someone who is driven to succeed and constantly strives for improvement in his craft.
People born with the sign usually don't like to take shortcuts or rely solely on luck but instead put in the hard work and dedication needed to achieve their goals. They would admire persistence and determination, aiming to be a model of how to succeed through focused effort and commitment.
At the same time, Capricorns avoid becoming too obsessed with success and forgetting to enjoy the journey along the way. While ambition is a powerful motivator, it can also lead to burnout and frustration if not balanced with a healthy perspective on life. Overall, Capricorns are driven and hardworking individuals with a bright future ahead of them as long as they continue to channel their ambition in a positive direction.