Allen Ludden's Children Lead Lives Away from the Spotlight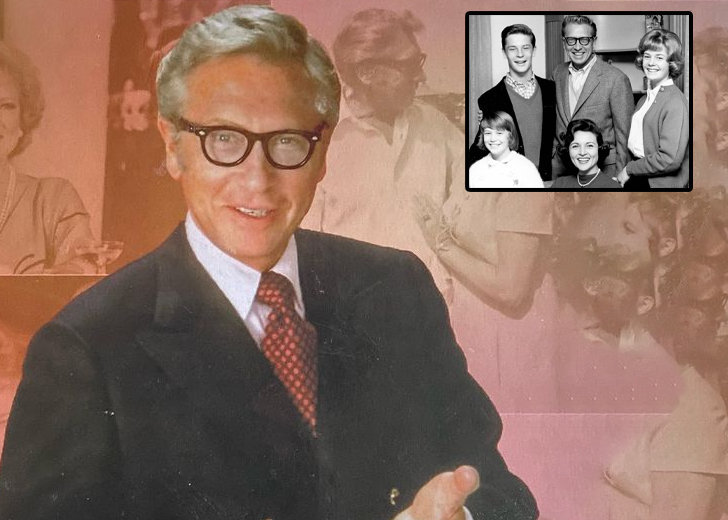 Late television personality Allen Ludden was famously known for hosting various incarnations of the game show Password between 1961 and 1980.
He sadly passed away in Los Angeles on June 9, 1981, at age 63, after a long battle with stomach cancer. He had also slipped into a coma following his chemotherapy treatment.
Coming to his personal life, Ludden had married twice when he was alive.
His first wife, Margaret McGloin, whom he tied the knot on October 11, 1943, died of cancer on October 30, 1961. He shared three children with her: a son, David, and two daughters, Martha and Sarah.
Ludden later found love in Betty White, whom he had met on Password. He eventually married her on June 14, 1963, after a couple of years' romance.

Allen Ludden (right) with his wife Betty White and friends Mary Tyler Moore and Grant Tinker. (Photo: Twitter)
The couple had no children from their marriage, but they remained together until Ludden's death.
And after the TV personality's death, White, who passed away at age 99 in December 2021, raised her departed husband's children.
Allen Ludden's Children Lives Private Lives
Even though Ludden was a celebrated personality, his children never felt the need to be in the spotlight. Instead, they preferred to stay away from the limelight and relish a happy life.
David Ludden
The Password host's eldest child, David, was born on March 15, 1948. He currently teaches Asian History at New York University.
He reportedly received his Ph.D. from the University of Pennsylvania in 1978. He soon started as a history professor at the University of Pennsylvania, where he taught South Asian history and development studies until 2007.
David even chaired the department of South Asian Studies at one point during his career.
In addition, David also established himself as an author and wrote several variations of his book India and South Asia: A Short History.
He has received countless accolades, including the Guggenheim Fellowship for Humanities Award.
Martha Ludden
Martha, the oldest daughter of Ludden, was born in 1950. She was only 11-year-old when she lost her mother, McGloin.
She, however, found good parents in Ludden and her step-mom White. That said, according to reports, her bond with White didn't start well as one would hope.
Closer Weekly's report stated that Martha had some "anger towards Betty" when her father remarried the actress.
"Martha was young and she deeply opposed the marriage. She was very angry at her father and made it clear she did not like Betty," the report added.
But despite her fiery relationship with her step-mom in the past, she celebrated White's 98th birthday in 2020.
Speaking of Martha's career, she reportedly received her law degree in 1990 and has been working with specially-abled people at present.
Sarah Ludden
Sarah, who was born in 1952, is the youngest child of Ludden and stepdaughter of White.
She began her career as an audiologist and dancer. But later, she pursued a career in karate, thanks to her love of dance.
She also opened a small karate school called Thousand Waves with Nancy Lanoue, a business owner from Chicago.
Sarah and Nancy also dated for quite some time before moving from California to Chicago and making their relationship permanent.
For her contribution towards karate, Sarah was also honored with the Cook County Unsung Heroines Award in 2009. Around the same time, she earned a fifth-degree black belt in the World Seido Karate Organization and Kajukenbo Kung Fu.