Alan Thicke's Sons Filed a Lawsuit against His Spouse Tanya Callau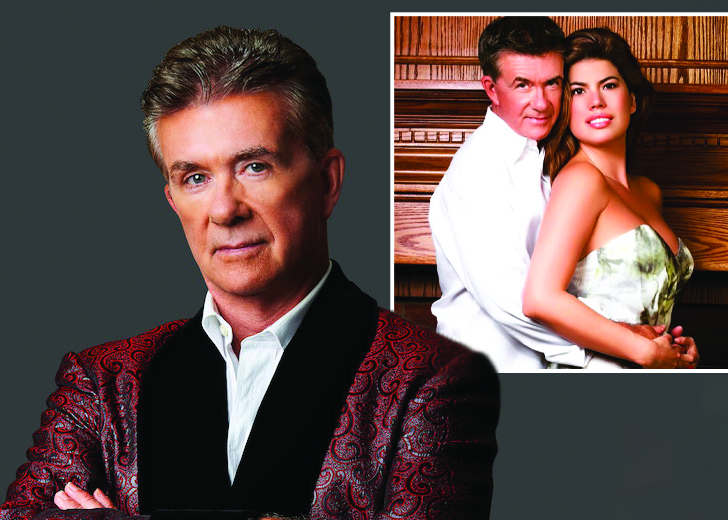 Alan Thicke's death caused a rift between his sons, Robin Thicke, Carter Thicke, Brennan Thicke, and his third spouse, Tanya Callau.
The actor passed out while playing ice hockey with Carter on December 13, 2016. He was fine at the moment, joking with his son to take a picture of him on a stretcher.
But when he was taken to the hospital, his condition got worse. Unfortunately, he died of type-A aortic dissection. Alan had a very successful career as an actor, singer, and TV host, among others.
As a result, he had amassed a massive net worth. According to The Blast, his estate was valued at $15.7 million.

Alan Thicke with his spouse, Tanya Callau, on their wedding day. (Source: Instagram)
Alan's spouse and sons feuded over his inheritance, and that was when the bad blood started.
The Lawsuit Between Thicke Brothers and Tanya Callau
Callau is Alan's third spouse. The pair tied the knot in 2005 after dating for six years.
Their marriage ceremony was held at Cabo, just a week after their engagement. The pair were together till Alan's death in 2016.
It is unknown if the relationship between Callau and the Thicke brothers was sour before Alan's demise. But once the talk of inheritance was brought to their attention, the brothers filed a lawsuit against their stepmother.
According to the inheritance payout allocated, Callau was supposed to revive 40%, whereas the three sons were supposed to get 20% each.
Callau apparently had signed a prenuptial agreement with Alan before their marriage. But unfortunately, this meant that she would not have rights to the actor's inheritance payout other than what was written in the agreement.
However, Callau claimed that the prenuptial agreement was invalid, and hence, she was entitled to her spouse's estate. Robin and Brennan, Alan's estate administrator, denied it and filed a petition at the court in May 2017.
Callau said that she did not plan to contest the prenup signed, and the judge agreed with her. As a result, the court dismissed the petition and lawsuit in September 2017.
It is reported that the prenuptial agreement gives Callau 25% of Alan's ranch and some other estate. She claimed that it was all she wanted and nothing more.
The Aftermath
In May 2018, Callau pointed out that she had not received her inheritance left by her spouse.
In the court documents reviewed by TMZ, she accused Robin and Brennan of being reckless with money. She believed they were holding out on her inheritance.
Her lawyer, Adam Streisand, stated that Callau would ask the court to order the Thicke brothers to be transparent with the estate. Out of all the Thicke brothers, Robin was the one to say strong words against Callau.
He called her names in public and said she went on a campaign to "feed her insatiable desire for publicity." He accused her of not caring about him and his brother but instead creating "a media blitz serving no purpose."