Alan Cumming Married Husband Grant Shaffer Twice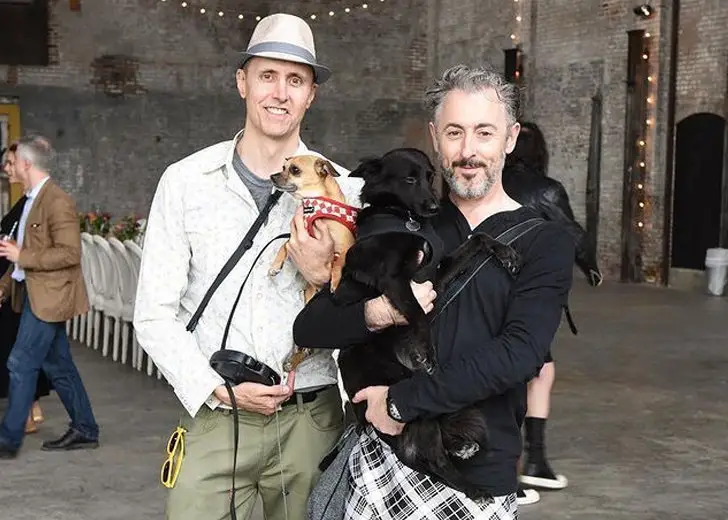 Alan Cumming knows that his husband, Grant Shaffer, is the one.
Why?
Because, although Shaffer didn't like all the things that Cumming did, the illustrator never wanted to change who Cumming was as a person. 
You know Cumming is head over heels for his spouse because on the day that their marriage turned five years young, they shared their vows again — they got married twice.
Alan Cumming Married Husband Twice
On January 8, 2012, Cumming tweeted via his official handle to do two things: (1) announce he was married; (2) stick it to Rick Santorum. 
He shared that to celebrate five years of his London wedding to Shaffer. The husbands tied the knot yet again, this time in New York City. 
The post also came with a hashtag: #eatmericksantorum. 
This was a reference to the candidate Republican nomination for president, who was vocal in his opposition to gay marriage.
Cumming and his spouse were first married at the Old Royal Naval College Greenwich on January 7, 2007. 
Alan Cumming's Spouse Didn't Want to Change Him
During an interview with Closer Weekly, the actor recalled how he first became acquainted with his two-time husband. 
"We met through friends in New York," he revealed before he began gushing over his spouse. 
Cumming shared that his husband was lovely, kind, and hilarious. At the same time, he affirmed Shaffer was the first person who hadn't wanted to change him.
The couple respected one another, which, as per Cumming, resulted from them getting to know one another when they were older. 
"You know yourself more and are more respectful," the X-Men star said of being older.

Alan Cumming and his spouse Grant Shaffer at their wedding (Source: Instagram)
Alan Cumming on Past Relationships
In another interview with White Wine Question Time podcast, Cumming opened up about past relationships and dwelled on how his parent's marriage affected his own. 
Before his marriage to Shaffer, Cumming was wedded to his RSADA classmate Hilary Lyon.
Over the course of the conversation, he admitted how he got married in the first place to spite his parents, to prove to them that a marriage could last. 
He then admitted that it was a "bad reason" to get married to someone in the first place. 
Growing up with a Violent Father
Cumming also confessed that he took his parents' break up hard. He was devastated. 
Although before it all went down, he was actually the one who wanted them to break up. However, when they did break up, he was forced to confront quite a few things. 
It made me confront loads of things: the relationship, my father's violence, a whole load of stuff that was sort of in denial and people weren't talking about.
Cumming grew up with a violent father, which affected the relationships he would have in the future.
A Path to Healing
For a long time, he thought he attracted angry people and thought that was why his father hit him. 
But with time, he realized it was the other way around. 
He was attracted to angry people because they felt familiar to him. Moreover, he felt obliged to fix them. 
"I needed to fix them. I wanted to finally fix someone," he confessed. 
With therapy, he was made aware of these issues, and with Shaffer, he was finally in a healthy relationship where he and his husband balanced each other out instead of changing one another.