Inside 'Sopranos' Star Aida Turturro's Weight Loss Journey and Personal Life
What is Tony Soprano's sister Janice doing now?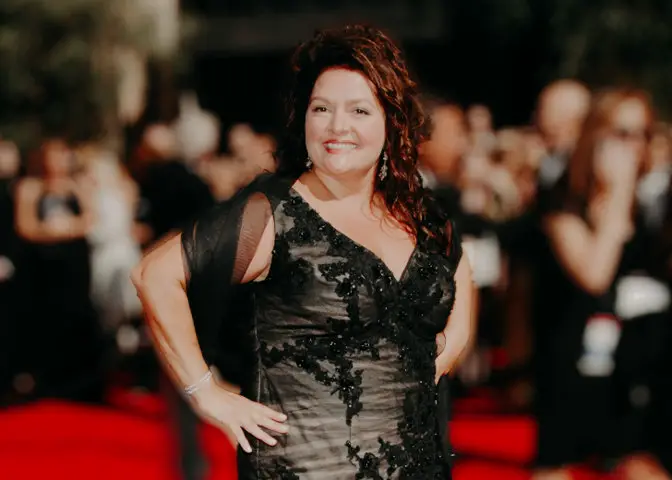 Actress Aida Turturro, famous for playing Janice Soprano Baccalieri, Tony's hot-headed and foul-mouthed sister in The Sopranos, has joined Cameo. Turturro was introduced to Cameo just before lockdown in March 2020 by her co-star Jamie-Lynn Sigler.
Turturro is currently in Connecticut, working on a nun's role for Phyllis Nagy's upcoming film Call Jane, but felt she needed something to do while in quarantine. In an interview with Vulture, she said appearing on Cameo helped her to "put on some lipstick and look at my script."
For the inundated, Cameo is an online service where fans can pay "anywhere from $5 to thousands of dollars for a personalized video message from over 40,000 celebrities." 
Turturro charges $90 per Cameo and estimates that she has already made over 450 messages for her fans. 
The quirky actress said that she received many requests to "Do Janice," especially from younger fans who binge-watched the show for the first time during the lockdown.
Last year, HBO revealed that viewership for The Sopranos went up 179% since stay-at-home restrictions went into effect. In April 2020, the channel also made several of their most popular titles free to watch, and the show ranked as the most-watched among all free series.
Reflecting on the resurgence of the show and her character on Cameo, Turturro said, "It's so weird sometimes. But this is life — it's a cycle."
The 58-year-old admitted she feels reluctant going back to Janice and has not even been able to rewatch the show following the death of co-star James Gandolfini, who suffered a heart attack in 2013.
"It was maybe too soon after Jimmy died. There's so many memories when you're watching yourself. It's been 20 [explicit] years! I can't be Janice in two minutes!"
Her Life Outside the Show
Turturro is originally from New York and comes from a family of actors that includes famous cousins John and Nicholas Turturro. She first appeared in True Love in 1989, ten years before she would appear on The Sopranos.
However, Turturro was also active on Broadway and was paired with Gandolfini on the '92 production of A Streetcar Named Desire. The duo was extremely friendly but also competitive on set, often fighting like brother and sister.
This prior relationship made it much easier for her to play Tony Soprano's elder sister years later. The actress who believes she is "unbelievably sexy" has chosen to remain single throughout her career.
She is not active on social media and has no significant other to speak of, though she is open to the idea of marriage and having a husband one day. 
Turturro also dealt with significant medical challenges throughout her life. She was diagnosed with rheumatoid arthritis at age 12, meaning she could not walk without experiencing excruciating pain.
After seeking treatment and battling her condition, Turturro served as a national spokesperson in a rheumatoid arthritis awareness campaign. She was also diagnosed with type 2 diabetes in 2001.
Despite receiving a diagnosis, Turturro remained in denial for a couple of years before fully understanding the seriousness of her condition. She worked hard to educate herself and controlled her diet with the help of a nutritionist.
The actress also spoke out about her battle with diabetes and weight loss and later served on several nationwide public education campaigns sponsored by her medicine provider Sanofi-Aventis.