Everything We Know about Adam Savage's Wife Julia and His Twins
Savage's twins were born in 1999.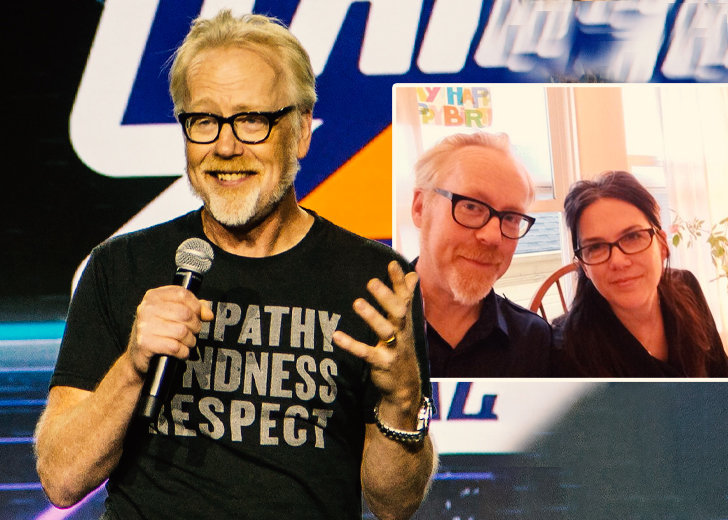 Adam Savage is a man of many talents. He has primarily served as a special effects designer and fabricator over the years in Hollywood. And simultaneously, he has also proved his mettle as an actor, television personality, educator, and producer.
He is best known as the former co-host of the Discovery Channel television series MythBusters and Unchained Reaction. Similarly, he has acted in notable films such as Star Wars: Episode II – Attack of the Clones and The Matrix Reloaded.
At present, Savage is actively working on his platform Adam Savage's Tested, which includes a website and a YouTube channel.
Coming to his personal life, the 54-year-old designer is a happily married man and presently lives with his longtime wife, Julia Ward, in the San Francisco Bay area.
According to The Wall Street Journal, he apparently built a model of his new Edwardian home in San Francisco's Mission district in a 2,686-square-foot area. In addition, the house is adorned with movie replicas he made for fun, as well as mid-century modern furniture and contemporary chandeliers.
His Wife Julia Ward Is a Marriage and Family Therapist
Savage, who has kept most of his personal life private, rarely speaks about his wife in public. Because of that, not much is known about his wife.
But on World Mental Health Day in October 2019, when he made a tweet, he revealed that his wife was a marriage and family therapist.
It's World Mental Health day. I'm here to tell you that help abounds if you reach out. I'm the son of a psychotherapist. The husband of a marriage & family therapist. I've been in therapy on an off my whole life and have received so much from mental health professionals. — Adam Savage (@donttrythis) October 10, 2019
The designer also shared a rare picture of his wife and him on Twitter to mark the occasion of Passover Seder in April 2014. In the snap, the couple glared into the camera while he took a selfie.
Some fans were delighted to see the couple's picture, as they took to the comment section to show their happiness.
"@donttrythis awesome to see the women behind the legend. Behind every great man is a greater women," someone commented.
Another added, "@donttrythis we finally get to see Mrs Savage! I bet she's really cool!"
Savage and his wife Ward have reportedly been married to each other since September 11, 2004.
Adam Savage Has Twins Son from His Previous Marriage
Apparently, Savage was married to his first wife before he tied the knot with his present wife, Ward. That said, he has not revealed any details of his ex-wife in public to date.
From his first marriage, he also has two sons, twins, who were born in 1999. In an interview with Life of Dad in 2013, he stated that his twins were 14 years old at that time. "It is an unfathomable and incomparable journey to raise kids," he said about being a parent.
I remember when my kids were toddlers, i opened up my DVD player to try and figure out why It didn't work and found it full of loose change and honey-nut Cheerios. https://t.co/L4q6cy6wXz — Adam Savage (@donttrythis) June 18, 2020
He continued to say,
It is also beautiful. 14 is both a very difficult, but an amazing age because you can really see the shape of the men or women your kids will become. That is incredibly invigorating and also terrifying. You really see how much your guidance works and doesn't work at this age.
Savage also occasionally mentions his twins in his tweets, suggesting that he manages a good relationship with them despite his split with the twins' biological mother.