Abby McEnany on Creating and Acting in 'Work in Progress' — 'It's Been a Very Healing Thing for Me'
Season 2 of 'Work in Progress' premiered on August 22.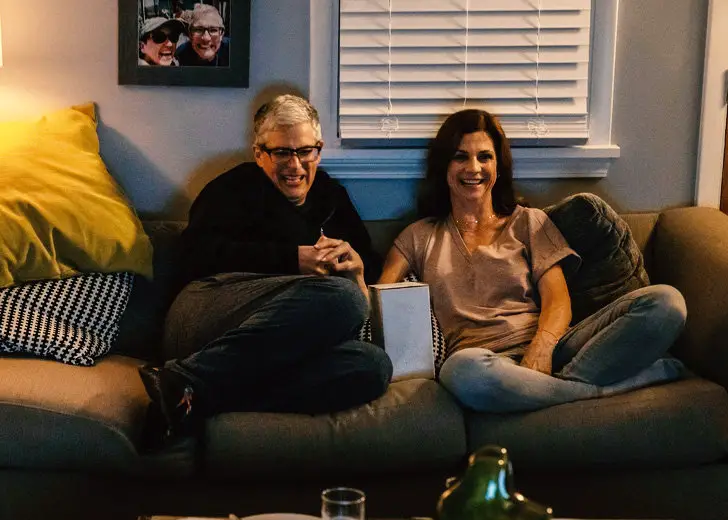 After a remarkably successful season 1, Work in Progress returned on Showtime on August 22, with two episodes airing back-to-back.
The series follows the journey of Abby McEnany in her role as Abby in the series, someone that Showtime describes as "a mid-forties self-identified queer dyke whose life is a quiet and ongoing crisis."
Amidst her mental challenges, she encounters an unexpected romance with trans man Chris (played by Theo Germaine). Her relationship with Chris, 20 years younger than Abby, challenges her to open up about her obsessive-compulsive habits and sexual lunacy. 
An Oral History of 'Work in Progress'
The uniquely human comedy was created by McEnany and Tim Mason, written and executive produced by McEnany, Mason, and Lilly Wachowski.
In her interview with Indie Wire, McEnany talked about her friendship with Mason, which ultimately led to the show's creation.
Mason came to my storytelling called, Work in Progress in 2016 and comes up to me and is like, 'Why don't we just write a tv show based on your storytelling.' I felt like my entire life had been leading up to this moment because I always wanted to work on a TV show.
Queer Representation 
Even in today's world, we do not find adequate queer representation on our TV. Work in Progress succeeds in broadcasting an unfiltered take on gender non-conformity while seamlessly weaving comedy into every scene.
Abby's journey through life depicts intimate anecdotes that are relatable to the underrepresented communities as they enjoy a genuine reflection of themselves. 
McEnany said she could write the characters so tenderly because it was closely based on her real-life experience. She actually did date a much younger trans man and said it really was no big deal. 
"We wanted to show what queer life is and the queer life that I see and that Lily sees, McEnany explained. "I'm never saying we're breaking ground, but a lot of shows do not depict gender non-conformity pals as normal people in the background."
However, in her recent interview, McEnany said representing gender variant people on TV isn't what she is most proud of. She said, "A fat, older character that has a sexy, young, love interest, that to me is revolutionary. And I've got to say, my internal shame about it is rampant," she added.
The comedian noted that weight was a core part of her story as she sometimes struggles with her weight, and the show is helping her heal through it.