50 Cent Says He Couldn't Make Snoop Dogg Stop Smoking Weed on 'BMF' Set
He's Snoop D-O-Double-G for a reason. And the reason is his love for pot!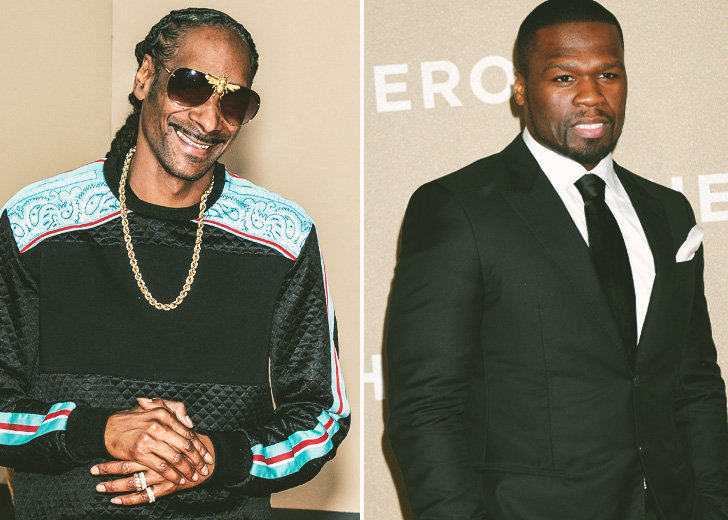 Beyond his music, Snoop Dogg has built himself a persona that makes him synonymous with marijuana, and for good reason. The 'Young, Wild, and Free' rapper has been puffing on a seemingly never-ending blunt since he stepped into the hip-hop scene with Dr. Dre back in '92.
Despite Snoop's reputation, fellow rapper 50 Cent just recently came to the hard realization that he could not stop the 'California Gurls' rapper from smoking weed. 
50 Cent Accepted That Snoop Dogg Will Never Quit Weed
In a recent tweet from the 'Power' rapper, he urged his fans and followers to pray to God. He asked that the almighty grant him the serenity to accept that there were certain things in life that he couldn't change. 
50 Cent also asked God to grant him the courage to change things that were in his control. But more than that, he asked God to grant him the wisdom to discern between the two. 
"BECAUSE Snoop Dogg is not gonna stop smoking weed," he accepted. 
Evidently, while shooting for his show Black Mafia Family (BMF for short), 50 Cent went with the path of courage and change when he should have simply walked the path of serenity and acceptance. 
50 Cent Tried to Get Snoop Dogg to Quit Weed
Last month, 50 Cent sat down on the sets of Jimmy Kimmel Live, where he briefly touched upon how he gave up on getting the D-O-Double-G to put out his blunt for good. He said, 
You can't get [Snoop Dogg] to stop smoking weed. I went to the trailer. I was like, 'Can you chill? Can you chill?' He was like, 'Get outta here man! No, it's legal 50! It's legal!'
If one were to excuse his 180-day stretch of sobriety in 2002 and the short hiatus in 2016, Snoop and marijuana have been inseparable for as long as he has been in the spotlight. 
About 'Black Mafia Family'
Starz announced that it was expanding the cast list of 50 Cent's show Black Mafia Family with the addition of Snoop Dogg, La La Anthony, and Serayah. 
The show was drawn from the true story of Demetrius "Big Meech" Flenory and Terry "Southwest T" Flenory— two brothers who rose from southwest Detroit in the late '80s. Two of them were the primary catalysts that went on to establish one of the most influential crime families in the history of the United States of America. 
As of this season, the French Inhale rapper is seen as Pastor Swift—the Flenory family's spiritual advisor. Over time, the man of God becomes engrossed in more than the spiritual well-being of the family. 
Snoop's character even helps the family find a lawyer and becomes a confidante to the organized crime family. Although the head of the family is not fond of Swift, he had to keep his silence because the pastor proves time and again that he is an asset to the family.