Everything about 'Lady Like' Singer Ingrid Andress
Know all about the up-and-coming country singer.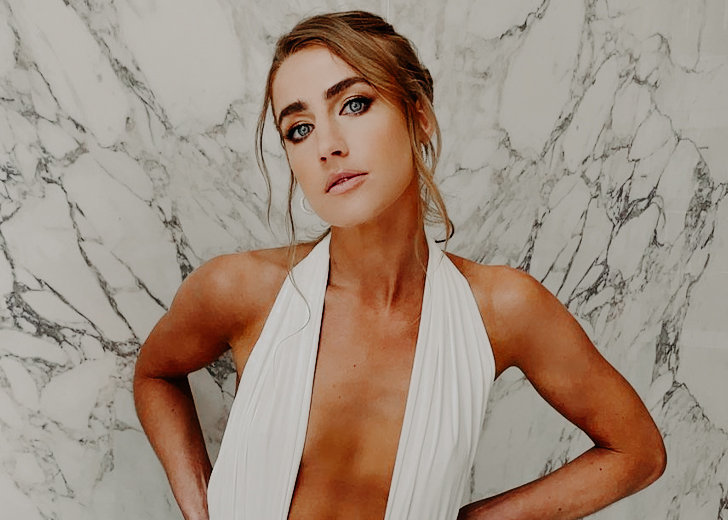 Ingrid Andress took the music industry by storm in 2019 with her debut single 'More Hearts Than Mine.' Peaking #30 on the Billboard Hot 100. The song was even nominated for a Grammy.
On March 27, 2020, she released her debut studio album 'Lady Like,' which has been topping charts, getting her #1 on the Billboard Emerging Artists chart in April 2020. 
Here are some facts about the up-and-coming country singer.
Ingrid Andress's Childhood
Born in Southfield, Michigan, the Andress family moved to Highlands Ranch, Colorado, when the singer was very young.
Her mother loved music, which helped Andress develop her passion for it. Growing up, she learned instruments like drums and piano.
Her father was a strength coach for the Major League baseball team in Colorado Rockies. The family used to travel around all the time, which helped Andress experience and explore new cultures. 
The singer was homeschooled with her four close-aged siblings. Her parents were very religious and conservative, which drove the singer to rebel when she was young. 
Ingrid Andress's Musical Journey 
Andress attended the Rock Canyon High School. Becoming a chamber and jazz choirs member garnered her leads in several musicals. She was even accepted into the Colorado All-State Jazz Choir and the Colorado All-State Women's Choir. 
Her talent landed her a scholarship in the prestigious Berklee College of Music. However, the singer revealed Berklee had never been on her radar. She felt like an outsider there, but her competitive and driven nature would not let her give up. So, she continued to make music.
She finished her songwriting and performance degree under the mentorship of the established pop-rock artist, Kara DioGuardi.
After graduation, she drove to the hub of country music, Nashville, and began working as a songwriter and collaborated with various artists. She has written and produced songs for famous artists such as Charli XCX, Why Don't We, and even Korean artists like Eric Nam. 
She signed with the record label Warner Nashville in mid-2018. Even in such a competitive industry, Andress took her time to produce new and authentic music. 
Being an outsider helped her reflect on who she was in her music. Since she had no big names backing her, it was all about her and her talent. 
Her debut song 'More Hearts Than Mine' was released in July 2019. The song was about a real-life experience of her trying to decide whether to introduce the man she was dating to her family. She performed the music for the first time in Nashville at a songwriter's round. 
To date, she has one studio album, 'Lady Like,' two extended plays, and seven singles, including promotional singles and other chartered songs. 
Ingrid Andress's Influences 
Her mother's choice of music heavily influenced the singer. Her mother listened to Jon Denver a lot, which was her first introduction to country music.
Stevie Wonder, Whitney Houston, and The Doobie Brothers are some artists, among others, who helped her get into the world of music. 
Andress was not just influenced by one genre. As long as she could feel the vibe, she would make a song. Though she knows her songs mostly lean towards Country, the singer believes that her music is its own kind of Country music. 
Similarly, unlike the stereotypical Country genre, Andress doesn't write songs with too many metaphors.
When it comes to writing a song, Andress's primary motive is for her fans to understand her music and relate to it so she strives to be as honest as she can. 
In an interview with Complete Country, the Colorado native revealed she needed nothing specific to help her write songs.
She starts to write on her phone as soon as the moment hits or something influences her.
Some Interesting Facts About Ingrid Andress
While Andress might sound somber when she sings, she has a wild side to her as well. During her conversation with Ryan Fox, Andress revealed that she had done things that were 'unladylike.' 
She joked that anything could happen when she was with her friends, but talking about her 'unladylike' traits and having difficulty brushing her hair was on top of the list.
She also casually revealed that when she is angry, she curses a lot and is all over the place. 
She also talked about how Google searches show questions about her husband. She clarified she doesn't have a husband and joked that they should let her know if anyone knew who he was. 
The singer revealed some interesting facts about her while playing 'Never Have I Ever' with Cale Dodds and Gabby Barrett on Detroit's 93.1 Nash FM.
Some of the things that she has done are — sent a text to parents that were meant for someone else, used someone else's toothbrush, crashed a wedding, and had a fake ID. 
She went more into details about crashing a wedding and using a fake ID. One day, when Andress was in Boston for college, she had just finished her show. She was all dressed up, and while walking back, she saw a party going on. The singer decided to crash it and realized it was a reception for a wedding. She used the fake name Rachel and claimed to be the friend of the bride. She even got a guy's number but ended up never calling him after the party.
Talking about her fake ID, initially, she used her sister's card since their faces were similar. However, the bouncer at the club did not believe the singer. After that, she made another fake ID which worked until she was 21. 
Ingrid Andress's Projects For 2021
A lot is happening for the up-and-coming star in 2021. With three Grammy nominations and two nominations for the Academy of Country Music Awards, Andress entered 2021 with a bang. 
On May 14, her short movie, A Lady Like That, premiered on the Amazon Music app and YouTube channel. The movie is around 16 minutes, and it revolves around Andress and her experiences of her breakthrough year. 
The movie is a compilation of candid interviews, never seen before home videos, and behind the scenes of her experiences in the Grammy. The singer took to Instagram to share her thoughts on the series. 
She opened up about being vulnerable and sharing her story with her fans. As a guarded person, Andress was terrified when the movie aired. Regardless, she received nothing but love and support from her fans and followers. 
She has claimed that she is booked for a couple of music festivals; however, the names of the festivals have not been released yet.
From September to December 2021, Andress is going on a tour with duo Dan + Shay and The Band Camino. The tour will happen all over the USA and is continued from their 2020 tour, which was postponed because of the COVID-19 pandemic.