Zohreen Adamjee Age & Married Life Revealed; Husband, Bio & Facts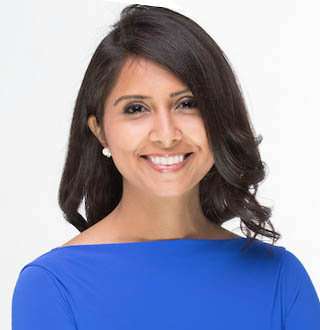 Zohreen Adamjee, the only Pakistani TV reporters in California, is a full-time reporter at FOX 11, Los Angeles. She also did a live 30-minute online show called Capitol Conversations where she interviewed California's top politicians. In the past, she had also shot/edited video and wrote for CNN.com.
Some of the main field works that she has covered are; the San Bernardino massacre, the Porter Ranch gas leak, and the Led Zeppelin copyright trial. Her outstanding performance and reporting skills on those projects made her noticeable amongst the crowd.
She is also a member of the South Asian Journalists Association. She also wrote technology blogs for L.A. Times. Moreover, she is also the author of a cookbook focusing on South Asian foods.
People You May Like: NFL Network Reporter Cynthia Frelund Wiki: Age, Married, Parents, Nationality
Zohreen Adamjee Bio Includes Age
Zohreen Adamjee celebrates her birthday on every 2nd of June. She was born in 1984. However, any information regarding her family and her height is still under the rocks.
Talking about her education, the 35 years of age Zohreen with the Middle Eastern American ethnicity, received a broadcast journalism master's degree from Columbia Journalism School. After graduation, she worked in CAA and FOX's scripted entertainment TV divisions.
Is Zohreen Adamjee Married?
Along with being a successful reporter, Zohreen Adamjee is also a happy wife in real life.
Back on August 7th of 2017, she got married to her love, Kishi Shah. She had announced her wedding to the world in a very Bollywood style as she posted a picture of her hands fully decorated with henna and the wedding date and the name of her husband on a side.
Interesting: Rene Marsh Wiki: Age 36 CNN Beauty & Husband In Post Married Bliss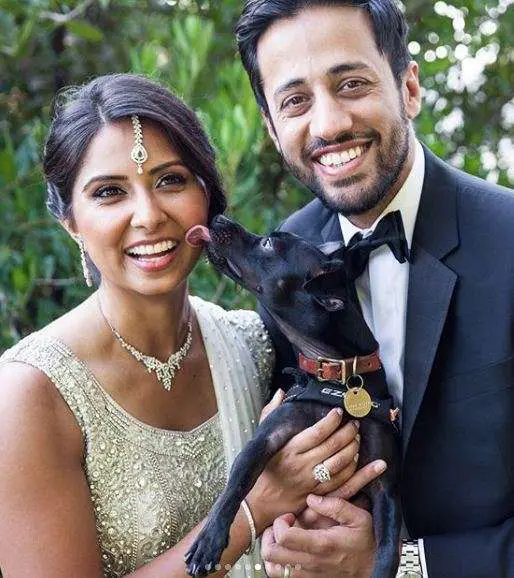 Married: Zohreen Adamjee and her husband, Kishi Shah posing on their wedding day with their dog. (Picture: Zohreen's Instagram)
One year before the wedding, the couple got engaged in the presence of 200 family and friends. And in 2018, for their one year of wedding anniversary, she recreated the look of the table from their wedding day with the help of her family and surprised her husband.
She further added that she looks forward to living with her husband and have a family of her own just like her parents who have crossed over thirty-five years of togetherness.
Also Read: Chloe Melas Bio: CNN Reporter's Husband Romance, Being Parents, Salary
Let's Find Out Zohreen Adamjee Salary
Zohreen's reporting career started with freelance reporting at Bakersfield's CBS station. After just four days of working there, FOX40′s news director saw her work and offered her a job at FOX. Since then, she hasn't turned back.
As the salary of the reporter working at FOX News can range from $45,925-$86,343. We can assume that Zohreen makes a vast amount of $78,876.
---