Fox 11 Olga Ospina Bio, Age, Husband, Nationality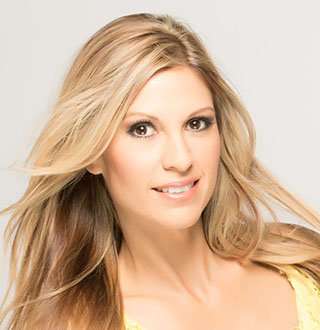 Bold and beautiful, Olga Ospina has it all. Ospina has been wowing audiences with her beauty but more importantly with her news reports. Fearless and driven Olga can be seen reporting without hesitation and a will to convey an event thoroughly.
You Might Also Enjoy: Harris Faulkner & Husband, Ultimate Power Couple; Daughters & Work - Balanced
She has covered a wide range of topics during her time. From natural disasters to breaking news, to interviewing world-renowned celebrities, Ospina likes to keep her plate full. Apart from her on-screen persona, Olga is a fun loving adventurer off camera. She is very fond of traveling, exploring new places and meeting new faces.
Let Us Find Out More About This Gorgeous Anchor; More Bio Below
Olga Ospina celebrates her birthday on the 27th of June but her birth year remains undisclosed. She was born in Los Angeles, USA. Her parents are from Colombia. However, from the age of 8-13, Ospina lived in Colombia with her parents but later moved back to the states.
Her nationality is American as she was born in the USA, but her ethnicity is Colombian. Information regarding her height, high school years and later education also remain undisclosed as of yet.
Despite being a well-renowned anchor, Olga has kept most of her personal life away from the limelight.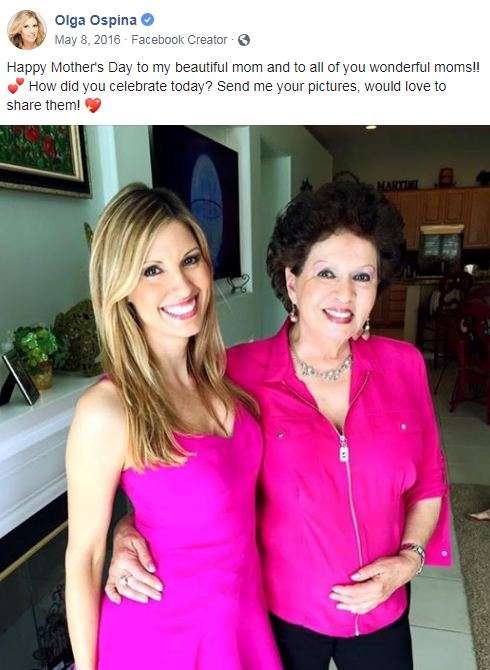 Family Love: Olga Ospina wishes her mother on the occasion of mothers day (Photo: Olga's Facebook)
Read More: MSNBC Mimi Rocah Age 48 Wiki: Family Insight, Husband & Job – Conflict?
A minimal amount of information can be found about Olga's life. She has posted one or two posts in her facebook where she expressed her love and gratitude towards her parents. It seems she maintains a healthy relationship with her parents. Other than that, not much information is available about Olga Ospina's personal life.
Olga Ospina & Her Association With Fox 11
Since 2012, Olga Ospina has been working as a news reporter and a weathercaster for Fox 11 news. Her career began with a job at a local radio station and slowly moved to the top. After years of working at local stations, Olga joined KTLA in Los Angeles where she worked as a reporter for 6 years.
Not only has Olga worked for a news station in real life but she has also made a number of appearances in movies playing the role of a reporter. Her good looks and her capabilities have surely favored Olga Ospina in her life as an anchor/reporter.
Olga Ospina Husband Remains A Mystery
Olga Ospina is someone who looks like she could be a model. This gorgeous anchor has been showing off her talent and her good looks for a long time in which she has amassed a large number of fans and followers who constantly want to know whether or not Olga is married or if she is in a relationship.
As for Olga herself, she has remained silent when it comes to her married life and her husband. However, on December 16, 2016, Olga shared a picture of herself with her newborn daughter. This sent her fans into a tailwhip. She was drowned with congratulatory messages and praises.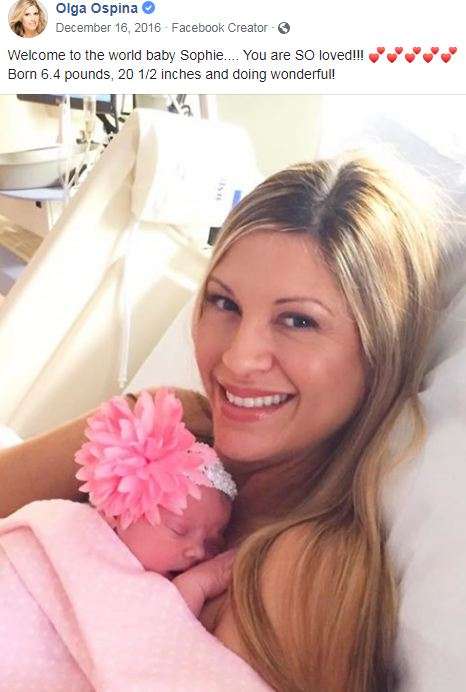 Bundle of Joy: Anchor Olga Ospina shares a photo of her new-born daughter Sophie (Photo: Olga's Facebook)
Interesting: ABC 7 Judy Hsu Family With Husband Fell Apart? Baby, Salary & Facts
But among all the happiness, a question still remained. Who is the father of her newborn? Olga however, has not yet revealed the identity of her daughters' father. She seems to be happy with keeping the important things away from the spotlight.
---