When Ruby Rose Thought About Getting Rid of Her Thigh Tattoo But Changed Her Mind Later
Ruby Rose announced that she would be removing her unicorn tattoo via her Facebook in the summer of 2015. However, judging by her post from January 2019, she still seems to be donning the tattoo.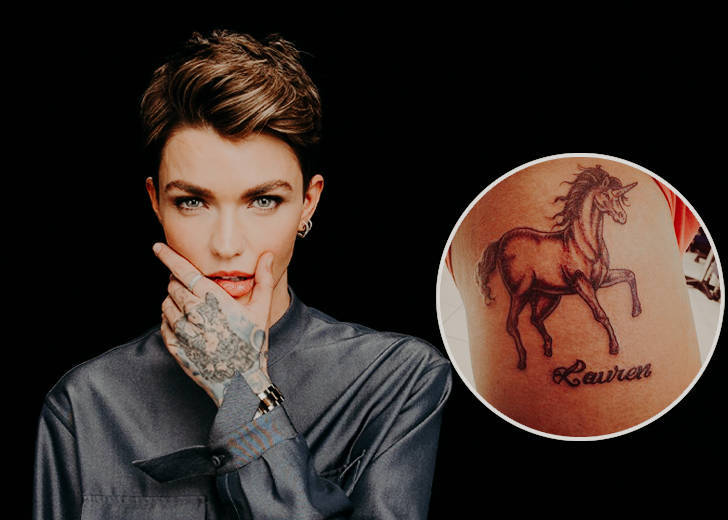 Ruby Rose, the multi-talented actress from Orange Is The New Black, is also a tattoo enthusiast with over fifty-seven tattoos on her body. Among her pool of tattoos, the one that made headlines was the unicorn tattoo on her right thigh, which, by far, is her only leg tattoo.
Apart from her acting and tattoos, the Australia-born actress is famous for Break Free, a cinematic tribute to gender fluidity, released on her channel on July 15, 2014.
Her Unicorn Tattoo
Rose has a unicorn tattoo on her right thigh with "Lauren'' written right below it. According to Steal Her Style, she had got this done in March 2012. The portal also entertained the possibility that the name was one of her ex-lovers'.
On May 22, 2015, the actress's unicorn tattoo made into the news yet again when she posted a picture of it on Facebook and hinted that she was about to have it removed. In the captions, she assured fans that the only tattoos that she'd be removing were the ones that were not done well in the first place. 
Her famous unicorn tattoo being the face of such a comment suggested that she was not fond of that particular piece anymore. She also thanked LaserAway, the skincare experts that helped her erase the ink.
However, in the last picture from the series of snaps she posted on Instagram on January 10, 2019, Rose can be seen with her leg tattoo, indicating her decision to opt-out of the removal process midway.
Deciding To 'Break Free'
On July 15, 2014, Rose released a short movie Break Free based on the experiences of gender-fluid people, much like herself. Her short went on to amass five million YouTube views and  200,000 Facebook fans within a fortnight of its release.
In conversation with The Guardian, the actress confirmed it to be autobiographical. She further elaborated how as a kid, she used to think of herself as a boy. The actress also confessed to binding her breasts with ACE bandages and sleeping on her chest to stop the growth of her breasts. 
In her teens, her mom pressured her into being more "feminine," right up until the actress decided that she'd had enough.
Subsequently, she shaved her head, deciding to be whoever she wanted to be. 
The actress revealed that it led her to be bullied and was even physically assaulted by guys a few times, so much so that she was compelled to grow her hair and act more feminine unwillingly. Nonetheless, after joining MTV, the actress chopped off her hair once and for all, and the rest, as they say, is history. 
Her Latest Project
On March 13, 2021, Rose took to her Instagram to announce her new movie SAS Red Notice in Great Britain. 
SAS Red Notice is an action-thriller based on the best-selling novel written by veteran SAS operator Andy McNab. 
Talking with Collider, the star affirmed it to be a fun movie, with a script that "deals with things that are probably relatable with governments across the globe."