Ts Madison: From An Adult Actress To Social Media Personality
"I think what we have done in America with trans people is we have omitted the actual, 'real' trans people that started this stuff."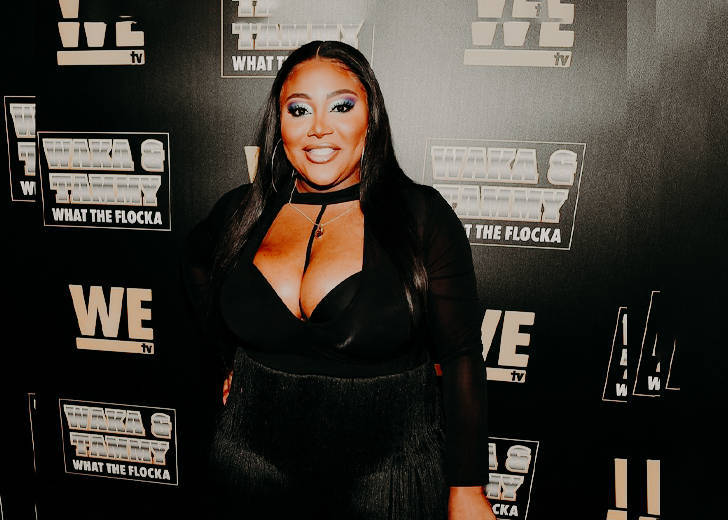 Ts Madison Hinton, also known as Maddie, is an American entertainer, entrepreneur, recording artist, and LGBT activist. She became popular through the internet when her Vine clip titled New Weave 22 Inches went viral. In the clip, Madison came out as a transgender person as she exposed her nude body.
She has been an internet personality/influencer speaking out on human rights relating to the LGBT community ever since. She has also written an autobiography titled 'A Light Through the Shade: An Autobiography of a Queen' and recorded an EP titled 'The New Supreme.'
Besides, she is also the recipient of the 'Lifetime Achievement Award' at the 2016 Transgender Erotica Awards. She was also honored as one of the 'Top 100 Influential LGBT People' by Out magazine in 2019.
Madison's Bio: Age, Early Life, and Family
Madison was born on October 22, 1977, in Miami, Florida. She was raised by her single mother, whom she considers her biggest strength.
Speaking with HuffPost in December 2017, the entertainer talked about her experiences growing up in a single-family home without a father. She even discussed how her mother taught her to keep her head high and beat the obstacles in her life.
She taught me to keep my head high and instilled in me that I can do anything. Throughout life and during my transition, I faced many seemingly unbeatable obstacles, but I am sitting here today, a strong, powerful trans woman of color.
However, Madison has not shared any further details about her parents, effectively keeping them out of the limelight.
A Former Adult Star 
Madison, an influential LGBT activist, is a former adult actress. More so, she started her career as an adult actress, and she is unapologetic regarding her roots as a sex worker. And she is often outspoken about her experiences of the intersection of trans people and the general public, too.
Sharing her journey from adult entertainer to trans-influencer, Madison had talked with HuffPost in March 2016.
My background happens to be in the adult entertainment industry, which I am unapologetic for and unashamed of because I think what we have done in America with trans people is we have omitted the actual, 'real' trans people that started this stuff.
She also added that a large number of transgender women in America come through the sex industry circuit. However, she happened to be one of those girls who turned her job into a brand, as she owned her own adult entertainment business, production company, and owned the rights to her images and videos.
Madison even launched a premium adult entertainment website in 2004 and independently produced, starred in, and distributed videos and pictures online. In 2009, she also formed Raw Dawgg Entertainment (RDE) Multimedia Group and hosted The Queens Court show.
I'm proud of that because there are times that girls get involved in the adult entertainment business, and they are the puppet instead of the puppeteer...Because I can say to you now — 'I've done that, I did that.' And that's something I'm still making money off of even when I'm not in that anymore.
Transition from Adult Actress to Social Media Personality
After her stint in the adult entertainment business, Madison gradually transitioned her career into music and tried her hands as hostess, vlogger, and philanthropist.
Her strong fan base from her days as an adult star also helped her grow in her new career. She told HuffPost, "They've been there since the time when I was an adult actress and then became a business owner, and now I'm a writer and all of these things. So I'd say, wholeheartedly, that Ts Madison is an entertainer."
In that process, one of her Vine clips, New Weave 22 Inches, went viral on the internet in 2013, which gave her the perfect platform to showcase her varied talents.
Following that, she became more active on social media handles, initially on Vine and then on platforms like Twitter, YouTube, and Instagram. In her YouTube channel, she has conducted self-interviews and addressed topics like the trans adult services industry and the LQBTQ+ community.
Her transitional journey also saw her making a guest appearance on the season finale of Kandi Koated Nights in 2011 and getting interviewed by Examiner magazine in December 2013.
In addition to that, the Vine star got an opportunity to host gay pride events in Springfield, Missouri, and Toronto.
Music Career
Talking about her music career, Madison is an aspiring musician who, in her own words, is "still in its beginning stages, with a great amount to grow."
In her interview with HuffPost, the social media personality shared that her extended play (EP) 'The New Supreme,' released in 2014, was just a touch of what she has to offer, musically.
I do believe with the proper amount of dedicated time and energy to TS Madison, we have the potential to take over the world.
Her musical journey is associated with Pink Money Records. She has also signed a recording and media contract with the music label.
Madison's other notable musical ventures include projects such as 'RuPaul's Butch Queen,' 'The Queens Supreme Court Theme Song,' 'Pop That [explitive],' 'Khia's Next Caller, feat. TS Madison' and 'Feeling My Fish.'
Filmography
Madison has also found her way into the entertainment business after emerging as an influential figure on social media sites.
Her first credit as an actress came in 2016 when she appeared in The Comedy Show Show. The following year, she appeared in the role of Lareema in a short movie titled The Lady in the Locket. In 2020, she was spotted in the film Zola where she played the character of Hollywood.
Much lately, Madison has stepped onto her path-breaking journey, as she becomes the first black transgender woman to star in and executively produce her own reality series, The TS Madison Experience. The show's first episode premiered on March 4, 2021, on WeTV.
Sharing her excitement about her new show, the reality TV star took to Instagram on March 10. In her post, she gave out a clip that included the show's details and a tagline that Madison quoted, "once you find that inner peace and love for yourself, everyone else will love you."
Likewise, Madison bashed a few who had been spreading hate against her and her shows through the caption. In the caption, she wrote, "I'm authenticity ME and ion give a F%*k who don't like it! when I learned to love me... Everybody else that mattered fell in line!!"
The latter part of the caption also saw the emerging actress thanking WeTV for providing her the platform to express herself. 
Thank you @wetv for helping me spread the love language of The #TsMadisonExperience 
Madison's Net Worth
Though neither Madison nor media outlets have revealed her net worth figures, it is evident through her social media and her colorful lifestyle that she bags a big purse under her belts.
Being a social media personality, musician, and artist, a bulk of the income can be credited to related works and sponsorships. 
Besides that, she has also made personalized merch for her fans. The trans star also has a Patreon, a platform that provides business tools for content creators to run a subscription service for her fans. 
Through her Patreon membership, fans get access to exclusive content, including behind the scene events, TV filming, and personal one-on-one interaction with her.